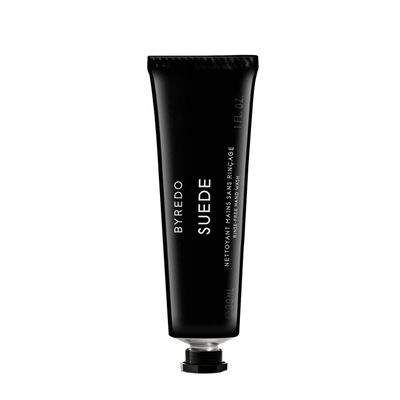 Byredo Rinse-Free Hand Sanitizer.
A few years ago, I shook hands with a very famous celebrity whose assistant stood by, not inconspicuously, with a pump bottle of Purell. It was rude. She may have more than 10 million Instagram followers, be able to walk into Rao's anytime she likes, and have a separate walk-in closet for just her gym sneakers — but we both have 39 trillion bacterial cells on our body, give or take. Perhaps I wouldn't have felt quite so snubbed if she had Byredo's new rinse-free hand wash at hand instead.
Ben Gorham — creator of the perfume brand — is a master at good branding, and that includes the new Byredo hand sanitizer. Encased in a squeeze tube printed with its signature Neutraface 2.0 font, its old-timey-apothecary feel aesthetically conceals the neuroticism of a germophobe with good design. Like all hand sanitizers, the formula itself is pretty simple. It's a mildly cloudy goo that easily dissipates as you rub your hands together, leaving behind that vague "fresh" feeling.
More clearly, unlike the somewhat clinical scent you get from other sanitizers, this one gives your hands the scent of having recently touched fine leather. Byredo's hand sanitizer is perfumed with their fragrance Suede, which smells like a more fragrant version of the brand's $2,000-ish handbags. There are also additional subtle floral and bergamot notes in the scent so that your hands don't distractedly smell like a straight-up tannery. If smelling like a leather vault isn't your thing, you can also rid your hands of bacteria and dirt with the brand's more woodsy Vetyver scent.
If you buy something through our links, New York may earn an affiliate commission.