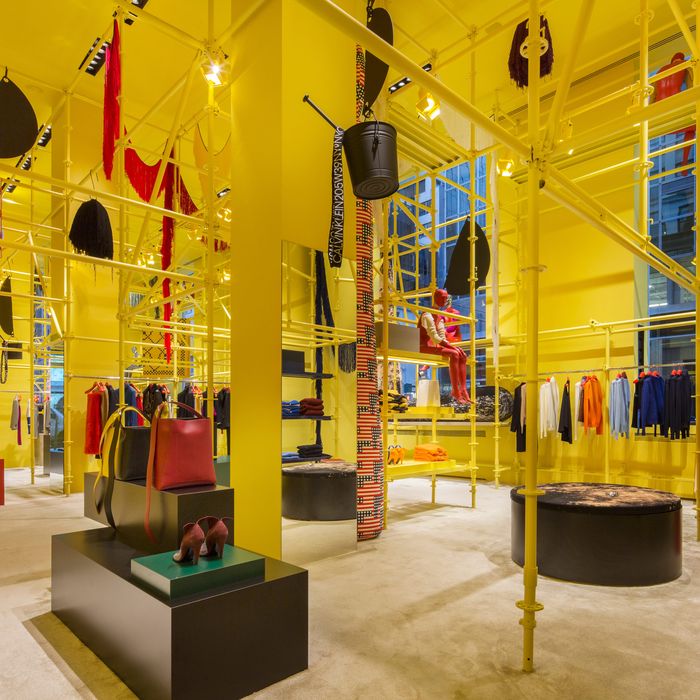 Photo: Elizabeth Felicella/Elizabeth Felicella
It all begins and ends with underwear.
The year I was born, Calvin Klein released one of the most memorable advertisements for one of fashion's greatest inventions, featuring one of America's hottest Bostonians: Mark "Marky Mark" Wahlberg clutching his junk in a pair of white boxer briefs. By this time, the company was nearly bankrupt, but smokin'-hot underwear campaigns combined with steady perfume sales and supermodels in high-waist jeans made the '90s Calvin Klein's decade. By 2000, the brand's estimated value was $1 billion dollars.
Growing up in the 2000s, all I knew of Calvin Klein was underwear. I remember begging my mother to let me buy the brand's briefs and bras during our twice-annual trip to Century 21. And when I was old enough to go to Soho on my own — where provocative Calvin Klein billboards still tower today — I admittedly bought my Calvins at Urban Outfitters in the hopes that merely putting them on would vanquish my virginity.
In college, I shrieked when I found an artsy-looking Calvin Klein Collection dress at the Poughkeepsie Goodwill. But other than that, I had no entry point to the brand's luxurious side as a teenager. My mother didn't wear Calvin Klein; I was a downtown kid, so the Madison Avenue store might as well have been in Poughkeepsie; and minimalism was as foreign a concept to me as making out. So, I stuck to the quite literal basics.
Raf Simons was born in 1968, the same year Calvin Klein was founded in a coat shop at the York Hotel in New York City. In 2016, at the age of 48, he would become the chief creative officer for the brand — the first to wield as much control as Mr. Klein himself — and naturally, one of his first tasks was to reframe the brand's already-successful underwear empire. Some cried "shake-up," but I saw it as an open door. I was 24 years old and still wearing the same bras I bought from Urban Outfitters.
"I'm fascinated by a man who takes something like underwear, that was always photographed and advertised in a small format, and decides it's going to be on a billboard five meters high in the middle of the city," Simons told Vanity Fair this summer, following his debut at New York Fashion Week. He said he was less interested in the clothes themselves, and more their attitude. "That is what I like," he added. "Somebody who dares."
Collectively, Simons's first strokes at Calvin Klein both pay homage to and perpetuate the brand's daring history by inserting something like underwear into the canon of great American art. His debut campaign, for example, features lanky models wearing nothing but briefs while standing in front of works by Richard Prince, Sterling Ruby, and Andy Warhol. And his first Calvin Klein Underwear campaign starred the (more muscular) male cast members of Moonlight. It signaled a reawakening at Calvin Klein, but still with the same core basics.
And then, at the end of July this year, Simons unveiled the final step in his Calvin Klein makeover: a fully redesigned flagship store, which he transformed with the help of Sterling Ruby. The artist, who is a longtime collaborator of Simons, painted the store from floor to ceiling in Benjamin Moore's "Delightful Yellow," making it look like a friendly gallery space with a built-in Instagram filter. For the first time in my life, I felt compelled to make a shopping pilgrimage uptown.
"I'm taking the Calvin Klein flagship store from minimal to maximal," wrote Simons in a press release. (The original space, which opened in 1995, was designed by John Pawson and described by Suzy Menkes in the Times as being a "temple to modernism.") "My design should be seen as a marker to celebrate the future of the brand," Simons continued. "I wanted the store to glow from within, representing a new day for Calvin Klein."
Upon entering the new Calvin Klein store, visitors are presented with a choice: To the left, they'll find the new collection, and to the right, underwear. But rather than being folded away, out of sight, each individual brief and bralette dangles delicately on a red hanger like a painting on a wall, or an American flag full staff. It is clear here that Raf Simons is selling a long-term romance, not sex. And customers are still falling head over heels. On the day I visited, a teenager asked his mother to take a photo of him in front of the display; two grown men argued over the best brief angle for an Instagram.
Reader, I went to the left.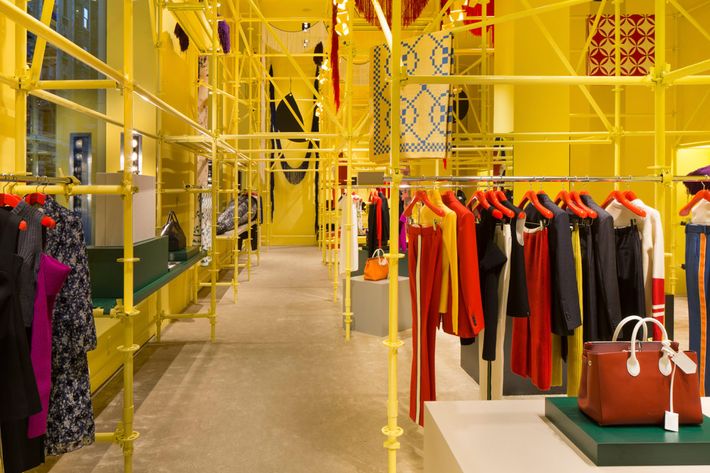 Inspired by the city sidewalks and also to signal an upcoming renovation, Simons's new collection is displayed underneath makeshift scaffolding — also painted a caution-tape yellow — on top of which salvaged factory mannequins perch like fashion gargoyles. It gives the impression that the world you've just stepped into is a work-in-progress, and bleach-stained ottomans (or "boyfriend chairs"), only add to this effect. Let's build, fam.
In addition to repping the brand's roots in New York, Simons, who is Belgian, is also clearly working to maintain Calvin Klein's title as the American designer. Ruby's custom American flag-cloth "candles" tower to the ceiling, highlighting other sculptural hanging objects like quilts, baseball bats, and yarn pom-poms inspired by cheerleaders, a uniquely American export.
Meanwhile, down below, the 205W39NYC fall 2017 collection (named after the brand's headquarters) includes leather dresses, marching band–like trousers, varsity sweater sleeves, denim miniskirts with Brooke Shields's 1980s ad on the tag, plastic coats inspired by your grandma's couch covering, and of course, cowboy boots. It is a stark and deliberate contrast to Louis Vuitton across the street.
Follow the yellow brick road up a flight of stairs, and you'll find more accessories: crystal belts displayed free of a glass case, evening shoes that peel over like folded magazine corners, plus affordable crewneck sweatshirts, again with the Brooke Shields motif. Then, finally, on the third floor, adjacent to men's suiting and shirting, lies a humble mattress with the brand's new bedding line and a one-of-a-kind yellow quilt draped over it — a scene much like Donald Judd's Soho home and studio. It was only when I reached the top that I realized there was no cash register.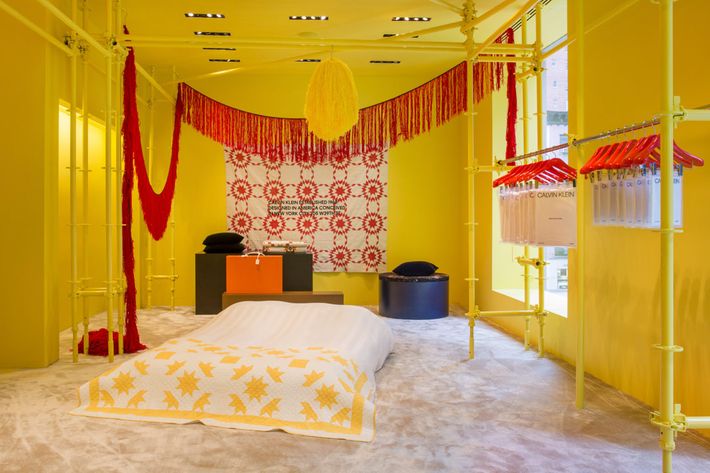 To a first-time customer like myself, walking around Raf Simons's new Calvin Klein store feels simultaneously as inaccessible as a visit to the Gagosian gallery, yet as inviting as a country fair. But this is precisely how and why we fall for Raf Simons season after season, no matter which city he's in or brand name he's under. He is a designer whose work is cerebral enough to keep you curious, artful enough to keep you dreaming, and romantic enough to create a connection. By the time I made my way back downstairs, I wanted in.
I bought a $45 Calvin Klein sports bra that day because I wanted a memento of my first time at the Calvin Klein store; my first Raf Simons piece; as well as to close a chapter on the Calvins of my past. This was a new beginning for all of us! I was going to start a collection, as I've seen all New York adults with good taste and a lot of money do. Only instead of an Andy Warhol, mine would begin with underwear.
So, I found a friendly clerk who took my credit card to the back and returned with what looked like a waiter's check. "This is my first time," I told her as I signed my name, like a nervous, idiot teenager.
"Welcome," she said with a smile.
What I didn't tell her was that next time, I'll be back for the turtleneck.