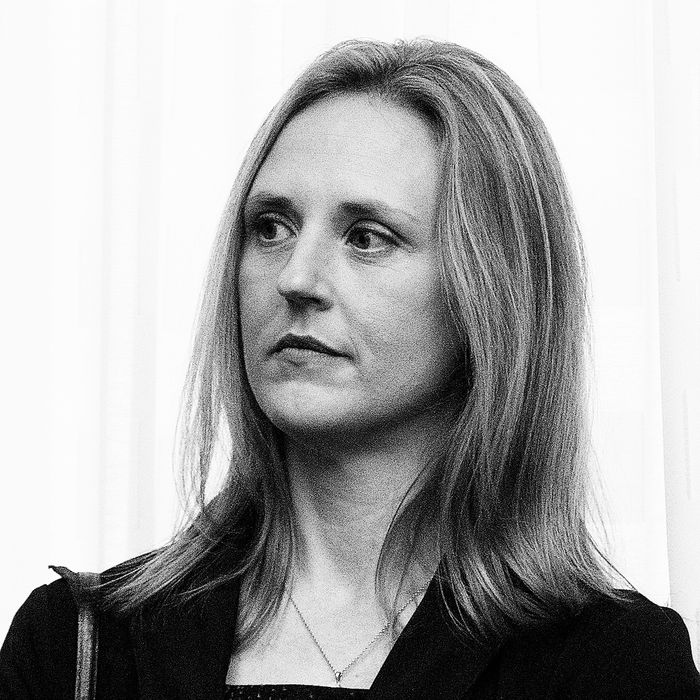 Candice Jackson is not concerned with subtlety.
Photo: Evan Vucci/ASSOCIATED PRESS
When she was hired to lead the Department of Education's Office of Civil Rights back in April, Candice Jackson's past was pretty much picked apart; her work at Judicial Watch (a group famous for suing the Clintons) and her historic skepticism of "college women who insist on banding together by gender to fight for their rights" made some worry about how she'd handle a department designed to address allegations of discrimination from women and people of color.
But a new Politico report suggests that Jackson's résumé highlighted a different aspect of her work: In a section for "top five qualifications," she listed a history of attacking Hillary Clinton's "lifelong corruption and hypocritical claim to defend women and children."
Jackson — who made headlines last month when she implied that most cases of campus sexual-assault were drunken hookups gone wrong — reportedly noted that she'd produced anti-Clinton ads and videos, and that they came from her "unique perspective [as] a gay Republican." She also penned the book Their Lives: The Women Targeted by the Clinton Machine, the title of which is pretty self-explanatory.
Politico obtained Jackson's résumé from watchdog group American Oversight, which got hold of it thanks to a Freedom of Information Act request. It's unclear whether the résumé made its way directly to the DOE, or whether it was handled by someone on the Trump transition team. In other words, we'll never know if the president saw it. But if he had, Jackson's skill set might've seemed … familiar.