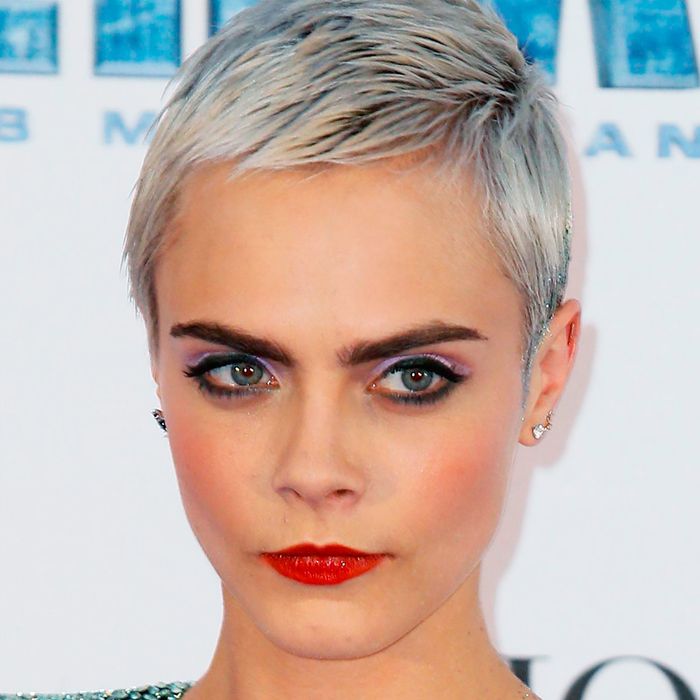 Cara Delevingne.
Photo: GEOFFROY VAN DER HASSELT/AFP/Getty Images
Cara Delevingne's birthday trip, which she hashtagged #Sexico, was naturally excessive. And the best part was the abundance of personalized merchandise.
Guests wore bright-red tracksuits emblazoned with "Team Delevingne" while touring Mayan ruins and boarding private planes. It's gesture weird and extravagant enough to be on-brand for the model.
However, the best piece of Cara merch was the souvenir shirt of three pictures of her face (two modeling ones and one silly one, because she's down-to-earth like that).
The surprise was organized by fellow model Adwoa Aboah, who ordered the custom shirts from Homage Tees. Homage specializes in a '80s-glamour-shot-meets-'90s-boy-band-concert-merch style; the company has made shirts honoring Celine Dion, Karl Lagerfeld, and Princess Diana.
If you're looking for ways to wear clothes that glorify yourself (no judgment, I would too) follow Cara's simple rules:
1. Pair with a quirky headpiece, such as a bucket hat or visor.
2. Enlist your closest friends to wear the same thing.
3. Remember that pants are always optional.