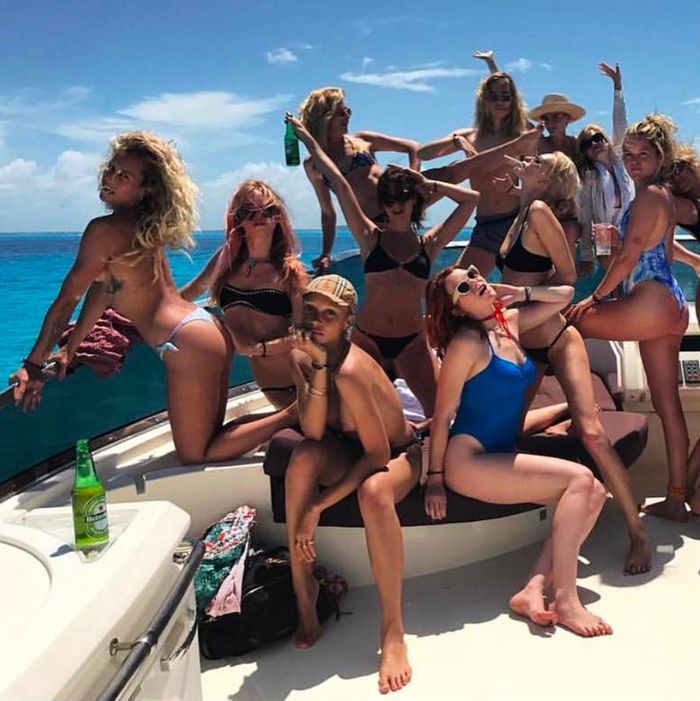 Sexico revelers.
Photo: Cara Delevingne/Instagram
Supermodel/young-adult author Cara Delevingne took a dozen of her closest friends to Mexico this week for a multiday, plane-hopping tour in honor of her 25th birthday. They called the trip #Sexico.
Delevingne was joined by fellow beautiful people like her sister Poppy Delevingne, model/DJ Lady Mary Charteris, casting director Tallulah Bernard, Burberry's Niamh Watmore, French actress Josephine de La Baume, English model Georgia May Jagger, and Brazilian model Alice Dellal.
The women partied in Mexico City, toured the Mayan ruins Chichén Itzá and Isla Holbox, and posed for a semi-topless photoshoot at the Chablé resort and spa in the Yucatán, according to People.
They dressed in coordinated red sweatsuits with "Team Delevingne" emblazoned on the leg. Someone also made a T-shirt with Delevingne's face that read in broken Spanish: "Tour el Mexico 2017" (or "Tour the Mexico 2017.")
Delevingne recently opened up to Elle UK about feeling "completely alone" during her teen years — but appears to be much happier now. She said she was motivated to write her forthcoming novel Mirror Mirror, which she has described as "a twisty coming-of-age novel about friendship and betrayal," due out in October, to help young girls who frequently ask her for advice.
She told Elle UK she wants readers to know: "[T]hat life is a beautiful mixture of wonderful disaster, but to truly love yourself is so important."
Check out the Instagram posts from #Sexico below.