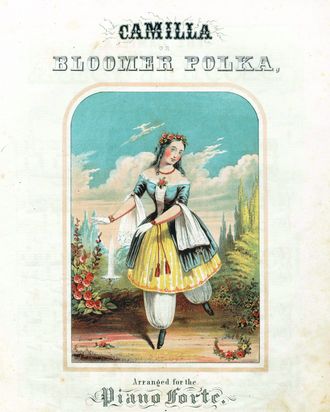 Photo: Transcendental Graphics/Getty Images
Someone in New York is always complaining about fashion. For instance, in January 1852, a group of women who had adopted the controversial bloomer costume — a short dress over Turkish trousers — signed a petition demanding that they be treated with more respect.
Because bloomers were linked to women's rights, public reaction was particularly hostile, and the women complained that they couldn't go anywhere without male escort, which they resented. In the petition, the ladies gave reasons why bloomers were preferable to the era's tent-size, ribbon-adorned skirts. They were practical, they were more hygienic (no petticoats to entrap dirt), and they were free of "foreign influence." By foreign they meant not the Pope — the main target of paranoia back then — but the nimble gods of Paris fashion.
So much influence was still to come — the Age of Worth, the Belle Époque, Poiret, modernism, the female triumvirate of Chanel, Vionnet, and Schiaparelli, Balenciaga's entire alphabet of shapes, the New Look, the images of Penn and Avedon, the rise of luxury ready-to-wear in the 1960s. And it continues to this day, along with a prickly defensiveness about America's fashion status. I doubt anyone truly thinks along such narrow lines, or cares, but I bring up this old sore point because the New York shows are coming up and apparently there's some concern since a number of prominent designers have left town — oops — for Paris. They include Jack McCollough and Lazaro Hernandez of Proenza Schouler, Laura and Kate Mulleavy of Rodarte (both Proenza Schouler and Rodarte showed at July haute couture), Thom Browne, and Joseph Altuzarra, who is half-French but still.
Does it matter? Of course not. This is a global economy, etc. This isn't 1912–14, when the Times held a contest for American designers and Vogue staged a "fête" to promote American fashion at the outbreak of World War I, which irked the French. Nor are things remotely similar to 1973 — that is, innocent — when five American designers went up against five Paris couturiers at the so-called Battle of Versailles. The truth is the world began to change soon after that event, when American designers like Geoffrey Beene experimented with having their clothes made in Italy. Now stuff is made everywhere. The next divide to cross was a European house with an American designer — Tom Ford at Gucci was probably the first, in 1990. So economics and technology have really leveled out the differences between Europe and America, though some competitiveness still lingers. If the fashion industry has anything to be worried about these days it's the global glut of images that soaks up everyone's time and attention. Fashion is just one speck in the image storm.
I'm actually looking forward to New York Fashion Week — and have ever since they liberated us from the deadly Lincoln Center venue. There's plenty to get excited about this season in particular. Let's get down to cases:
The Return of Tom Ford
Ford skipped a show last season and he wisely scrapped a see-now-buy-now plan, though he likes to try new things. He's also coming off his second critically acclaimed movie. So, my bet is he's juiced to give a full-on Tom Ford show (at the Park Avenue Armory on the second night of NYFW). More than just sex and glamour, that means everything — hair, makeup, music, accessories — done to perfection. He hinted to Amy Larocca that he wants to revisit the '90s, but don't expect a longing glance from Tom. He's moved on, too.
Raf at Calvin
Since his first collection for Calvin Klein, with the brand's creative director Pieter Mulier, Raf Simons has won a CFDA award and turned the company's minimalist flagship on Madison into a yellow fantasyland of art and fashion. The guy doesn't waste time. Indeed, the thing to keep in mind about Simons is that he likes the process of reinventing a brand. He often begins, as he did at Jil Sander, with an attempt to clean the slate. Then he starts adding new interpretations. With Calvin, though, he may move faster, and with more desire to surprise — in part because he has more freedom, plus huge consumer demand for the label.
Monse and Oscar, Separately
I'm really eager to see what Laura Kim and Fernando Garcia will serve up for their own label, now in its fifth season, as well as Oscar de la Renta, where they are co-creative directors. Last season, they had the bold idea of combining the two shows. Well, it didn't quite work. There was a technical snafu, and maybe, in hindsight, they needed to give their Oscar debut its own spotlight. I also think getting some tough criticism probably helped them in the long run.
Shayne in Helmutland
I really don't know what the Helmut Lang brand stands for these days — I stopped paying attention awhile ago. But I am interested in Shayne Oliver. With Hood by Air on hiatus, he can turn his imagination to a brand with a long history of idiosyncratic tailoring and subtle subversion. Will he be subtle? Should he be? I can't wait.
"Ralph's Garage"
No designer in the world has what Ralph Lauren has: a private collection of classic automobiles, including many sports cars. Last year, Forbes put their value at $300 million. So when his company announced that its spring show would be at "Ralph's Garage," amid the Porsches and Bugattis, it made crazy-good sense. Cars have long been a passion and a source of inspiration for Lauren. The facility where they are kept — in Bedford, New York, where Lauren has a home — is said to resemble a museum. I love cars, and I'm eager to see a Ralph Lauren spectacular. A seated dinner follows the show. This is also a good moment for the company, with its stock on the rebound.
There are a lot of other collections I'm excited to see — Marc Jacobs of course, especially after last season's amazing indoor/outdoor show at the uptown armory; The Row; Narciso Rodriguez, and Rachel Comey, who is back this season in New York, with a dinner/presentation at the Met Breuer, after showing in L.A.
Kith, the sneaker and urban-clothing brand, is also on the schedule this season — right after Calvin. And there's a flock of small, freethinking labels worth watching — Vaquera, Linder, A Détacher, Pyer Moss.