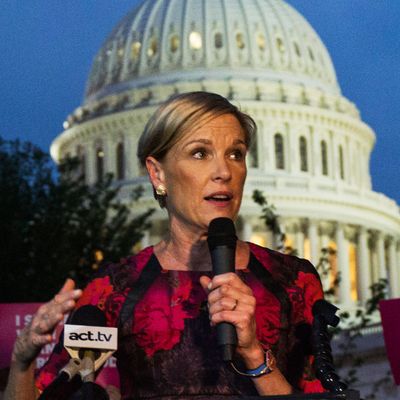 Planned Parenthood president Cecile Richards would like to set the record straight.
Photo: Zach Gibson/Getty Images
In an interview on Politico's Off Message podcast Tuesday, Planned Parenthood president Cecile Richards pushed back hard against the idea that Democrats should support candidates who are antiabortion. She said that recent comments by prominent Democrats like Nancy Pelosi, Bernie Sanders, and DCCC chairman Ben Ray Luján are "a shocking sort of misunderstanding of actually where the country is … which is overwhelmingly supportive of abortion rights."
She went on to say that Luján, who last month suggested Democrats consider running pro-life candidates in red districts they're hoping to win back, is "fundamentally … missing [that] people can distinguish between their own personal feelings and what they believe government or politicians should do." She went on:
People even in some of the most conservative areas of the country who may themselves personally say, 'I would never choose to have an abortion,' or, 'That's not something that's right for me,' also absolutely do not believe politicians should be making decisions about pregnancy for women. So I think he's totally wrong, and believe me I'll use every opportunity to convince him of that.
As Politico's Edward-Isaac Dovere points out, there's some disagreement within the Democratic Party about how to handle abortion rights. Strategists and old-timers generally believe that "winning requires reaching out to voters who've turned against them, many of whom view the abortion issue very differently," and they take the victories of people like former representative Jason Altmire and Senator Bob Casey (both Democrats from red states) as proof.
But abortion-rights groups contest that idea, saying that, realistically, flip-flopping on abortion won't do anything to win over Republicans – and it sends the wrong message to liberal women. "The choice they are making is not whether or not to support abortion rights," wrote NARAL Pro-Choice America president Ilyse Hogue. "The choice they are making is whether to be the party that embraces the future or flirts with the past at women's expense."
Richards also took aim at the Trump administration's policies, saying that "what we've seen out of this administration from day one have had both barrels aimed at women." So would she ever reach out to, say, Ivanka — as she did shortly after Trump's inauguration — to mitigate that?
"I guess I could," she replied. "I feel like talk is cheap, right?"