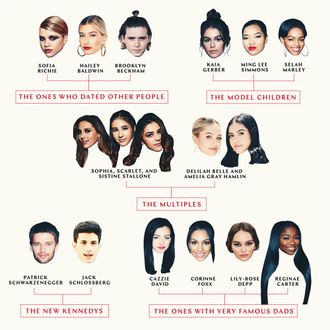 A taxonomy of the lucky ones.
Photo: Getty Images
Hollywood's grand tradition of nepotism has become, like most things, more transparent in the digital age. In 2017, the sons and daughters of famous people are all on Instagram, racking up hundreds of thousands of followers with their familiar last names and photos of their Bentleys and horses and blessedly symmetrical faces. Should you follow them?
Because the online gossip media is so starved for content these days that sites regularly base stories on single, innocuous Instagrams, it is hard to determine which celebrity children are actually worth tracking. Are any of them pursuing real careers in Hollywood? Or are they just rich? As a rule, for every bona fide star like Allison Williams or Jaden Smith or Zoë Kravitz, there is a Francesca Eastwood. (Who remembers that E! reality show?)
As a public service, we have watched hours of rich teen Instagram stories and identified the 17 children of celebrities most likely to become stars in their own right. They all have at least one famous parent. They all are under the age of 25. And they all are using their easily procured Instagram fame to pursue passions like modeling, acting, and owning pizza restaurants. Please enjoy: our taxonomy of the lucky ones.
The
Ones
Who
Dated
Other
Famous
People
One of the easiest ways celebrity children level up, fame-wise, is by dating someone who is already famous for other reasons. Justin Bieber, you'll see, is a popular choice of partner, but David and Victoria Beckham's son Brooklyn got himself into the tabloids by hooking up with Neighbors 2 actress Chloë Grace Moretz.
Sofia Richie
Age: 19
Famous parent: Lionel Richie
Instagram followers: 2.7 million
Richie, the daughter of Lionel and the baby sister of Nicole, grew up in Hollywood. She rose to much greater prominence, however, during the summer of 2016, when she started dating Canadian pop icon Justin Bieber. After Bieber posted a photo of Richie on Instagram, his rabid fans revolted, which blew the story into the stratosphere. Though Richie and Bieber broke up shortly thereafter, the Bieber Boost™ was enough to land her modeling jobs with Tommy Hilfiger, Chanel, and Yeezy. Then, in May, Richie enjoyed similar attention when she was photographed spending time with the Kardashian-adjacent Scott Disick in Cannes. (After TMZ ran the slightly suggestive photos, she tweeted, "Just so everyone can get their panties out of their asses, Scott and I are just homies #relax.")
Hailey Baldwin
Age: 20
Famous parent: Stephen Baldwin
Instagram followers: 10.6 million
Baldwin, the daughter of Alec's brother Stephen, actually dated Bieber first, in 2015. (She was reportedly "super upset" when he moved on with Richie.) Since then, she's become one of the most recognizable Insta-models working, though she'd like you to call her, uh, anything else. "'There is a line of calling someone an 'Insta model' or an 'Insta star,'" she told Elle UK in June. "Don't ever call me that because it really hurts my feelings and it's disrespectful." Baldwin did allow, however, that she sometimes makes money promoting products on social media. This past weekend, she presented at the MTV VMAs.
Brooklyn Beckham
Age: 18
Famous parents: David and Victoria Beckham
Instagram followers: 10.3 million
Beckham, the oldest child of David and Victoria, began making his own way in the world last year, when he hooked up with Chloë Grace Moretz. (They met at SoulCycle.) Their somewhat tumultuous relationship ended last September, but since then, Beckham has thrown himself into his real passion: photography. He released his first book of photos, accurately titled What I See, in August. "I couldn't believe it when Penguin offered me the chance to publish a book," he told Miss Vogue during a press tour for the launch. Last week, his dad moved him into college at Parsons in New York City.
America's fascination with the Kennedys continues apace, making it easy for the family's grandchildren and cousins and other relations to get attention for doing close to nothing. Some have failed in the pursuit of long-term fame (Conor Kennedy fell off the map after breaking up with Taylor Swift; Kyra Kennedy, once hailed as the queen of the Snap Pack, quit social media after cyberbullying me on Instagram). These young men, however, show some real promise.
Patrick Schwarzenegger
Age: 23
Famous parents: Arnold Schwarzenegger and Maria Shriver
Instagram followers: 629,000
Schwarzenegger, the son of a Kennedy and a Governator, first rose to fame in 2015, when he dated Miley Cyrus. Soon after, he invested in an exciting business — a pizza restaurant called Blaze — and now, he's starring in a scripted mini-series about the Iraq War on National Geographic. His success has him thinking, lately, about simpler times.
Jack Schlossberg
Age: 24
Famous parent: Caroline Kennedy
Instagram followers: 4,765
Schlossberg, JFK's only grandson, came to the world's attention in May when he attended the Met Gala with his mother. "Jack Schlossberg Will Make You Do a Double Take," InStyle declared, and thus, a star was born. The Yale grad, who will attend Harvard Law next year, recently wrote about his experience paddleboarding shirtless around Manhattan for charity, on the Cut.
The
Ones
With
Very
Famous
Dads
Like the Smith siblings before them, these teens and young 20-somethings have all gotten their start in Hollywood with a little help from their A-list dads.
Cazzie David
Age: 23
Famous parents: Larry and Laurie David
Instagram followers: 91,400
David, the older daughter of Larry and Laurie, broke out in 2016 when the website Uproxx "discovered" her Instagram and declared her a rich kid worth following. Shortly thereafter, she started dating SNL comedian Pete Davidson and working on her own web series, a darkly comedic look at narcissistic millennial life called Eighty-Sixed. She is also, it should be noted, Kennedy-adjacent: Cheryl Hines, who plays her dad's wife on Curb Your Enthusiasm, is married to RFK Jr.
Corinne Foxx
Age: 23
Famous parent: Jamie Foxx
Instagram followers: 121,000
Foxx jumped onto the scene in 2016 as Miss Golden Globe (a ceremonial honor that almost always goes to the daughter of a famous person). Now, she is poised to have an even bigger year: She was recently dubbed a "Modern Swan" by Town & Country, she is starring in her dad's feature film All-Star Weekend, and she just launched a website "devoted to empowering women." In March, Foxx wrote an essay about being the child of a celebrity for Refinery29, which ended with the words, "Fame is fleeting, but nothing can take away your art."
Lily-Rose Depp
Age: 18
Famous parents: Johnny Depp and Vanessa Paradis
Instagram followers: 3.2 million
In the last year, Depp has followed in both of her famous parents' footsteps by modeling for Chanel and acting in celebrated films like La Danseuse. "Chanel has always been part of my life," Depp told British Vogue last December. "My mom has worked with them since she was 18 and I've gone to the store with her since I was little. There are pictures of me literally in diapers wearing her Chanel pumps." Depp also makes frequent appearances in the Daily Mail for doing nothing more than walking around in jeans.
Reginae Carter
Age: 18
Famous parents: Lil Wayne and Toya Wright
Instagram followers: 2.5 million
At 18, the only daughter of Lil Wayne and Toya Wright is a reality-TV veteran, having appeared on her mother's BET projects Tiny and Toya and Toya: A Family Affair, as well as MTV's My Super Sweet 16. Now, she stars on WeTV's Growing Up Hip Hop: Atlanta and has a music career of her own. She will attend Clark Atlanta University in the fall. In a recent Instagram post, she described her philosophy of life: "The goal is to be booked, not popular."
By now, you probably know that "model" is a very popular career choice for celebrity children. Here are the ones poised to break out this year, thanks to Instagram and, in some cases, having mothers who are world-famous supermodels.
Kaia Gerber
Age: 15
Famous parents: Cindy Crawford and Rande Gerber
Instagram followers: 1.6 million
Gerber, the younger child of supermodel Cindy Crawford and Casamigos Tequila co-founder Rande Gerber, looks exactly like her mom — a fact that tabloids started noticing when she was just 13. Now, Gerber is an IMG model, the face of Marc Jacobs Beauty, and, according to Teen Vogue, an icon. "It is so key to me to be a good role model for young girls and someone their mom would want them to look up to," she told the magazine this month. Last week, she documented her first time pumping gas on Instagram.
Ming Lee Simmons
Age: 17
Famous parents: Russell and Kimora Lee Simmons
Instagram followers: 452,000
Simmons, the eldest daughter of Russell and Kimora Lee, made her first television appearance at the age of seven, on her mother's E! reality show Life in the Fab Lane. Now, she's prepared to break out on her own: After Instagram photos of her getting ready for junior prom went viral, she landed a shoot in Galore. What's next? Senior year of high school and whatever modeling contract she wants, probably.
Selah Marley
Age: 18
Famous parents: Lauryn Hill and Rohan Marley
Instagram followers: 81,300
In just one short year, Lauryn Hill's daughter has become a sought-after model, walking in shows like Chanel and Yeezy, posing for spreads in i-D and the Times of London, and shooting campaigns for Calvin Klein and Beyoncé's Ivy Park. She is also heading into her second year at NYU. In February, she told Vogue she discovered her calling at a young age: "I was like 11, in sixth grade, and I lived with my dad, so he was staying at the Gansevoort, near Times Square, and I just told him, 'Daddy, I want to model.'"
Like the Willis sisters and the Hadids before them, these siblings have leveraged their individual Insta-fame to raise the status of the group. They are all, in one way or another, models.
Sophia, Sistine, and Scarlet Stallone
Ages: Sophia, 21, Sistine, 19, and Scarlet, 15
Famous parents: Sylvester Stallone and Jennifer Flavin
Instagram followers: 1.25 million combined
The alliteratively named daughters of Sylvester shot to fame earlier this year when they shared the title of Miss Golden Globe. Sistine, the middle child, seems most interested in turning this newfound attention into a modeling career: She has posed for editorials in Teen Vogue, Town & Country, and Glamour. Sophia joined her on the Dolce & Gabbana runway in June. Scarlet, meanwhile, stars on her school's track team and recently launched a YouTube channel. All three posed for Harper's Bazaar in April, and Sophia assured the interviewer that they get along: "Sometimes siblings can get into rivalries, but we've been nothing but support to one another."
Delilah Belle and Amelia Gray Hamlin
Ages: 19 and 16
Famous parents: Harry Hamlin and Lisa Rinna
Instagram followers: 634,000 combined
The daughters of Mad Men's Harry Hamlin and Real Housewife Lisa Rinna stalked the path laid out by the Hadids: Delilah Belle, like Gigi, started modeling after appearing with her mother on The Real Housewives of Beverly Hills, and Amelia, like Bella, followed in her sister's footsteps. Now, both girls are signed to IMG. "I didn't really think that I was going to be a model," Delilah told W in March. "I never really thought about it, but Instagram kind of just made it happen. I was posting pictures of myself, and an agency was like, 'We want to represent you.' And that's kind of how it happened."
These 17 wildly fortunate young people have approximately three years to pursue their dreams before North West, Blue Ivy Carter, Suri Cruise, and Apple Martin eclipse them all.