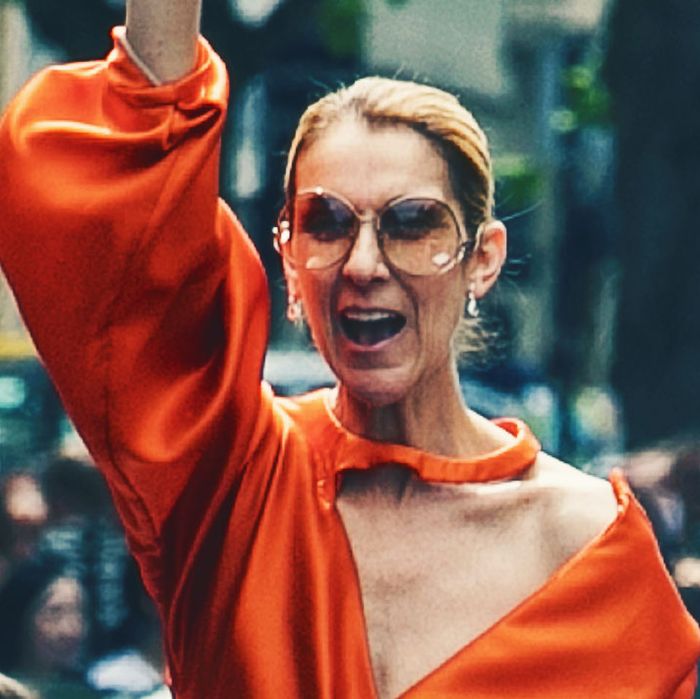 Céline Dion.
Photo: Marc Piasecki/GC Images
This was the summer of Céline Dion.
After taking time to grieve the loss of her beloved husband, René Angélil, who died after a long battle with cancer in January, the superstar emerged anew. Her heart would go on, indeed, and fashion was going to help bring her back to life. Her brief appearances at the Met Gala and the Grammy Awards were followed with a whirlwind tour de force at Paris Couture Week this July. She enlisted the help of stylist Law Roach, who likes to call himself an "image architect," and together, they re-introduced the world to Céline Dion, style icon.
A longtime lover of couture, Dion clapped and whooped excitedly from the front row at Christian Dior and Giambattista Valli, just like she would at her son's hockey game. She also stepped out in streetwear for the first time, most notably a Vetements Titanic hoodie. On top of that, there was also the black baggy faux-leather Givenchy overalls, a white cape and wide-brim hat that made her look like fashion's pope, and Louis Vuitton x Supreme pajamas. Plus, she wore head-to-toe leather boots and a coat not once, but twice in the dead of summer.
"We'll take an 'L' for weather when we're having a fashion moment," explained Roach with a laugh over the phone this August. Below, he reflects on Dion's best looks from the summer, and how they approached her style transformation.
How are you feeling as the season comes to an end?
Exhausted! But happy with the outcome. And I'll tell you why: When I see my colleagues, or other people in the industry, it's a huge, resounding feeling people have that they really enjoyed watching Céline enjoy herself. When your work can affect people in a positive way, that's like the most amazing thing.
What were some standout looks this summer that embody that feeling of joy?
I loved a lot of them, but one of my favorites was the Louis Vuitton x Supreme pajama set that she wore. I just thought it was easy and effortless — it was menswear — and was a real combination of who Céline is: that very luxe, high-end Vuitton women, but also now more in touch with elevated street brands. For me, it was a sneaky way of showing the world that she's both of these women.
Was Louis Vuitton x Supreme hard to get your hands on?
I don't want to sound snobbish, but no! Not really! [Laughs.]
Céline had some really theatrical moments this summer, but also did jeans and a T-shirt. How did you balance formal and casual?
The jeans and a T-shirt look with Givenchy boots and an Off-White bag — that's Céline off duty. And that's just the way she wakes up some days. Other days she wakes up and wants to be an over-the-top Madame, like when she wore the Ralph & Russo couture look with a white cape and hat. She can, and will, want to wear a little bit of everything, and it really just depends on what her mood is in the morning. Or what my mood is in the morning. Sometimes I'll push her to dress up, or send a subliminal message like with the Supreme x Louis Vuitton look or the DSquared2 look, for example.
In Europe, Céline is really bigger than just a pop star; she is royalty. That DSquared2 look was a play on a royal costume, for lack of a better phrase.
People call her "Queen Celine," so I was like, "Okay, let's do my interpretation of cool, modern royalty." An urban queen, if you will.
Did she wear less denim in Paris?
No, no, she wore a lot of jeans. I love her body in jeans. Like, she has amazing long legs and a small waist, so she actually wears jeans really, really well. And sometimes jeans and a T-shirt is way sexier than a low cut blouse or a skirt with a high split. It's a subtle sexiness that is ageless and timeless.
Céline was on a lot of private planes this summer. How did you approach her jet-set style?
[Laughs.] Okay, here's the thing — and I'm going to be really honest — there is no rhyme or reason to it. Sometimes the best plan is not to have a plan at all. Literally, the only thing that I try to take into account is weather. And sometimes I even disregard that.
Besides weather, was comfort something you ever thought about?
N-e-v-e-r. [Laughs.] When I tell you she's the true embodiment of a fashion girl … She will make it work for the look. She's just the quintessential diva. She'll sacrifice her body and endure pain for a beautiful look.
What about fabrics? Like, she wore head-to-toe leather in the summer.
No! Listen, you have people around the world looking at these photos; you have to be really petty to go and check the weather. I see comments like, "It's a heatwave, why does she have over-the-knee boots?" But these photos will live forever. We'll look them next year and still find enjoyment in them. We're not going to think about the weather.
Were there any looks this summer that you wished you could have gotten Céline in?
I really wanted to get her in Jacquemus. I'm really into that brand right now.
Do you have a dream scenario that you would love to dress her for, whether it's the beach or the Oscars?
Because one of her most infamous style moments happened at the Oscars, I would love to have an Oscars moment with her. I loved that backwards Galliano suit; it was before it's time. It's time for a redemption moment, in a way.
Going into fall, what are some trends or pieces you want to try?
I saw a resurgence of these silhouettes from the '40s, and I'm really interested in playing with that. Like, what we saw at Dior or Ulyana Sergeenko. It was almost this mobster woman, like very Bonnie and Clyde. I'm figuring out the right moment to play with that.