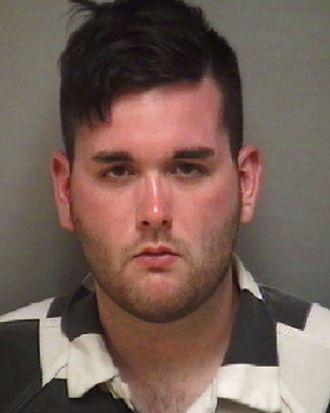 James Alex Fields Jr.
Photo: Albemarle-Charlottesville Region
Police records released on Monday reveal that the mother of James Alex Fields Jr., the 20-year-old white nationalist who plowed his car into a group of anti-racism protesters in Charlottesville, Virginia, repeatedly called 911 to report that he was beating or physically threatening her.
As the Associated Press reports, records from the Florence Police Department in Kentucky show that Fields's mother, Samantha Bloom, who is disabled and uses a wheelchair, called police in 2010 and told them that Fields hit her over the head and locked her in a bathroom after she asked him to stop playing video games. She also told officers at the time that her son was taking medication to help control his temper.
Bloom also called 911 in October 2011 to report that Fields was "being very threatening toward her" and that she didn't feel "in control on the situation," according to the Washington Post. The next month, in November, police came to their house after Bloom says Fields stood behind her with a 12-inch knife and spit in her face; she asked that he be assessed at a hospital. "Mom is scared he is going to become violent here and [is] afraid to transport her by herself" in her car, a dispatcher wrote, according to the Post.
During the Saturday attack in Charlottesville, Fields rammed his car into a group of anti-racism protesters, killing 32-year-old Heather Heyer and injuring 19 others. The revelation about his mother's 911 calls makes Fields the latest (attempted) mass killer with a history of domestic violence. Omar Mateen, who killed 49 people and hurt 53 others at an Orlando gay club in June 2016, had a history of domestic abuse. Robert Lewis Dear, who killed three people and wounded nine more at a Colorado Springs Planned Parenthood in November 2016, had been accused by two of his three ex-wives of domestic abuse. Cedric Anderson, who killed his special-needs-teacher wife and an 8-year-old student at an elementary school in San Bernardino in April, had a history of violence as well.
As Emily Crockett wrote for Vox, domestic violence is one of the best predictors of future violent behavior. Research from nonprofit Everytown for Gun Safety found that of all the mass shootings in the U.S. between 2009 and 2015, 16 percent of the attackers had been previously charged with domestic abuse.
In Fields's case, he had not only an apparent history of violence against his mother, but he also reportedly identified as a white supremacist and idolized Adolf Hitler. One of his former high-school teachers, Derek Weimer, told the AP that Fields had also confided that he had been diagnosed with schizophrenia at a young age.