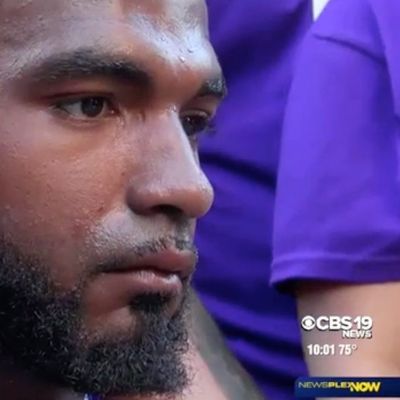 Marcus Martin.
Photo: Courtesy of CBS
On Saturday, a white nationalist plowed his car into a group of anti-racism protesters in Charlottesville, Virginia, killing 32-year-old Heather Heyer and injuring 19 others. During a Sunday-night vigil for Heyer, one of the victims — Marcus Martin, who was by her side during the attack — spoke about his experience.
In a horrifying picture taken by Daily Progress photographer Ryan M. Kelly, Martin was seen flying in the air after getting hit by 20-year-old James Alex Fields's car. Martin had attended the counterprotest — held in response to a white-nationalist rally the previous evening — with his fiancée, Marissa Blair, and Heyer, who was one of her close friends. Speaking with CBS19 at the vigil, Martin said he only remembers pushing Blair to safety.
"The only thing I remember was pushing my fiancée out of the way," Martin told CBS19. "I watch videos. I have no idea how I got on top of that truck. I don't know."
Martin told CBS News that he initially attended the counterprotest "to stand up for what I believed in. To acknowledge what's right is what's right, and what's wrong was wrong." He also expressed disbelief to CBS19 that the attack even occurred in the first place — "Why did this happen? Why would you allow this to go on?" — and called on authorities to take action.
"Racism is real," he said. "Hate still lives and the person that allowed this, this rally to occur, you should be held accountable for her life. You should be held accountable for every injury because you allowed this to go on."
Martin suffered a broken tibia, ankle, and three destroyed ligaments from the attack, which he described as "horrific, like a nightmare." At the vigil, he was seen sitting in a wheelchair with his leg bandaged up, alongside a group of mourners wearing a purple shirts with Heyer's face and a quote from her final public Facebook post: "If you're not outraged, you're not paying attention." He is set to have surgery on Wednesday.