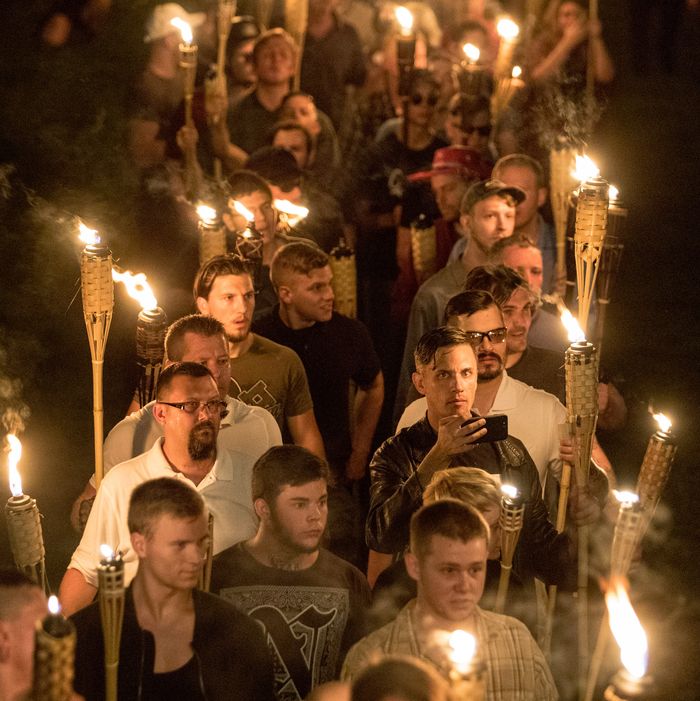 White nationalists parading through the University of Virginia campus on August 11, 2017.
Photo: Evelyn Hockstein for The Washington Post/Getty Images
For many first-year college students, this week is full of visions of dorm-room parties, cafeteria meals, and frosh week. But incoming students of color at the University of Virginia have an entirely different set of images running through their minds: the Neo-Nazis and Klu Klux Klan members marching in front of the school's iconic Rotunda building last week.
Several of these students, many of whom will move to the Charlottesville campus this week, tell the Cut that although the protesters were not UVA students, the events of the weekend have made them anxious about moving on to a campus now synonymous with hate. Still, they say they're determined to succeed.
"We believe in my family that the best way to show that someone is wrong is by success," Nia, 18, says. "I am in a group chat of African American students who are rising first years, and we have been talking about how we now need to prove that we have a right to be at UVA. It is not the Unite the Right's campus, it is our campus. We deserve to be there, and we deserve to learn, and we are going to do well."
Jhaya, 17, says the events at UVA have taught her a lot about racism in the country. She's from New York and views moving to Charlottesville as being an important personal experience. "Once it is over, and once I finish college, I can say to my children and grandchildren, 'I went through this and it made me stronger, but it also made me realize there is real hatred out in America,'" she says. "Before this, I feel like I could've kept living my life and felt like this [kind of hate] was not really happening to me. And I feel like that's the case with a lot of people. It never matters to them, until it's them."
Another young woman from southern Virginia, who spoke anonymously out of concern for her safety, says UVA should have found a way to stop the protest. "I'm sure you saw the statement from the school that said: 'UVA takes pride in supporting the First Amendment' — okay, no. I don't want to hear that anymore. Because that is not what is happening. It is not our First Amendment right to run cars into people," she says.
The young woman added that in light of recent events, she is concerned about her safety at UVA this year. She says she would like to see the school do more for marginalized populations, but it is the only school she can afford.
"I am so honored to be accepted, and to be going there," she says. "But I am going to UVA because it's the only way I could go to school. I come from a low-income household, and they gave me enough financial aid, and enough help, that I would be able to go. Getting a degree is the most important thing, but this is not the space I want to live in. My family would rather me not go, but they know it's the only way we are going to make it happen."
UVA did not comment for this piece, but UVA president Teresa Sullivan suggested in a recent statement the school did all they could legally to prevent the rally: "The University of Virginia is a public institution and as such must abide by state and federal law regarding the general public's right to access outdoor spaces. This includes open spaces such as Nameless Field and our historic Lawn, where torch-wielding protestors gathered and marched to invoke fear and intimidation."
Currently, UVA doesn't require permits for events on the school's public spaces; however, Sullivan has said that the school would review this policy: "The University does not require permits to reserve public spaces. Existing University policy speaks only to the ability to access University-owned facilities such as academic buildings and athletic venues. We will review these policies."
Tamera, 18, from Lynchburg, Virginia, says the events in Charlottesville have alarmed her family, especially older generations who have seen these kinds of displays of hate before. "My parents just tell me you need to be safe. But my grandmother is the one who really, really worries, and she is just terrified because of the things she has seen."
Still, Tamera says, she's not going to let the events detract from her focus on getting everything she can out of her college experience. "I have wanted to go to this school since elementary school. So, to get into this school was a huge, huge blessing, and I put in a lot of time and thought. So I am not going to let ignorance take this opportunity away from me."