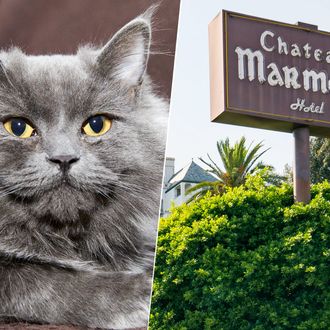 Anonymous Cat, Chateau Marmont.
Photo: Getty Images
The Chateau Marmont is a legendary Hollywood hotel and celebrity hot spot. The Cateau Marmont is "a CAT ONLY grooming and boarding facility serving Los Angeles and the surrounding areas and we loooove cats [sic]!" While they're two very different establishments serving very different clientele — namely humans versus cats — they're currently locked in a fierce battle over their similar names.
Back in July, the Chateau sent a cease and desist letter to the Cateau asking the cat groomer and boarder to change their name or they'd sue for trademark infringement and dilution.
But, as history has proven time and time again, animal people are not to be messed with. Jennifer Shields, who owns Cateau Marmont, told ABC7 last week, "People don't even know what Chateau Marmont is." (The cats certainly don't.)
"It felt like someone was trying to not only rob me, but my extended family members of a place to come and feel safe," co-owner MacCaully Shields added.
Per The Hollywood Reporter, Shields refuses to change the name, but "promised not to expand into 'hospitality services for humans' — as long as the hotel agrees to back off by Aug. 19."
And along with the services they provide to cat owners, the Cateau also says they house cats and kittens in need of a home. "No bar services are offered to the cats at any time," Shields's lawyer, R. Joseph Trojan, shot back when faced threats of a lawsuit. "To our knowledge, your client has never used its luxury hotel rooms to shelter homeless animals."
They also, as far as we know, have never had to ban Lindsay Lohan.