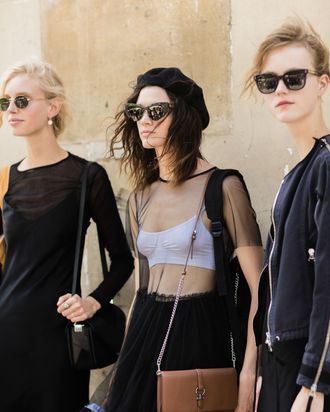 Cheap and Cheerful is a weekly column that highlights the chicest inexpensive finds. Because nothing's more satisfying than looking good while spending less.
Much like all trends, belly buttons have made their comeback, which means those crop tops, especially worn with belly chains and low-rise jeans, aren't going anywhere. That said, midriff-skimming tops aren't a new idea — in the last few years they've popped up when the weather gets warm, usually styled with high-waisted pants or skirts. If wearing one is high on your summer bucket list, you have some time left before fall's chill comes for us all. How you choose to incorporate it into your closet is up to you. Consider yourself more modest? Stick to the tried-and-true way everyone's been wearing them by showing off just a sliver of skin right around your ribs. Looking to bring back the glory that was Britney Spears circa "I'm a Slave 4 U"? Well, you know what to do. Scroll below to shop our favorites.
The Colorful, Stand-Out Option
There's really only a couple weeks left before this colorful top feels out of place so enjoy it while it lasts.
Yes, this is almost the same color as the one from before, but the satin fabric gives it a nice sheen that makes it more fun for a night out.
You won't look too cute in this modest polka-dot cropped blouse. To wear it to work, pair it with high-waisted black pants and low slingback heels.
The Trendy, Layering-Friendly One
Take a good look on Instagram and you'll notice the corset top also making a big comeback this season. You can wear it on its own or throw it over a white T-shirt.
The One You Want to See From the Back
Between the ruched sleeves, asymmetrical neckline that curves along the back, and bright-red color, it's exactly what to wear when everyone else around you is in boring black.
The Sophisticated Early-'00s Throwback
If you were a girl in the early '00s, you wore some iteration of the backless crop top to the club. This white version is a lot more refined, especially with high-waisted jeans.
Original Price: $150
Based on the way Mango styles this top with loose linen pants, you can already imagine being on the beach with a tropical drink in hand.
Brands like Johanna Ortiz have made us all want to wear exaggerated sleeves, but you could buy six of these for the price of the original.
When I went to buy this top after mercilessly stalking it online, almost every Aritzia salesperson who helped me admitted they actually own it themselves. Since buying it in white, I've never once regretted my obsessive purchase, and I've thought about getting it in several more colors. The only caveat is that it seems to sell out every time it's in stock.
If you buy something through our links, New York may earn an affiliate commission.