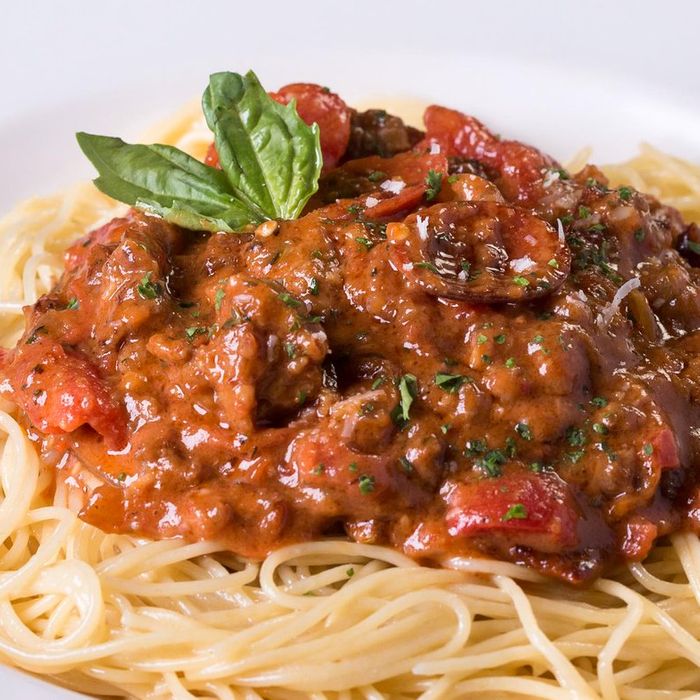 The nutritional watchdogs at the Center for Science in the Public Interest (they're the ones who sued the FDA over salt) just released their annual list of the most caloric dishes and drinks you can get at America's chain restaurants, and the results are … well, the results are more or less what you'd expect.
The whole list — titled the Xtreme Eating Awards — is presented like the Oscars, and we also aren't sure why that's the case, but just go with it. The Cheesecake Factory's Pasta Napoletana took top honors (you might even say it took the cake) in the "Worst Adapted Pasta" category, with 2,310 calories, 79 grams of saturated fat, and 4,370 milligrams of sodium. The dish comprises Italian sausage, pepperoni, a meatball, mushrooms, and bacon, "served over Parmesan cream pasta." Surely the official photo above doesn't do justice to this combination, which, according to the CSPI, is equivalent to eating "a Pizza Hut Meat Lover's Personal Pan Pizza topped with three cups of pasta and a cup of heavy cream." The CSPI does not approve. The CSPI also does not approve of the chain's Flying Gorilla boozy chocolate-banana milkshake — what you order when you want something to wash down your cheesecake — that clocks in at 950 calories, while also giving the Cheesecake Factory the distinct honor of being the only chain on the list twice. Mazel.
Here's what else you probably shouldn't eat, ever: The 770-calorie caramel-smothered sweet potato side at Texas Roadhouse won for "most damage from a supporting vegetable," while Buffalo Wild Wings' Cheese Curd Bacon Burger with fries is this year's "Worst Cheese in a Leading Role," on account of its 1,950 calories, 53 grams of saturated fat, and 4,700 milligrams of sodium. Other egregious meals: IHOP's Cheeseburger Omelette (served with three buttermilk pancakes); Dave and Buster's Carnivore Pizzadilla appetizer (it's a pizza but also a quesadilla); Chili's Ultimate Smokehouse Combo (it's meat with meat and meat); and Uno Pizzeria and Grill's Ridiculously Awesome, Insanely Large Chocolate Cake (what it says).
In other words, if you're sitting in a medium-priced chain restaurant, and the dish you've ordered has a zany name, you're probably in trouble.