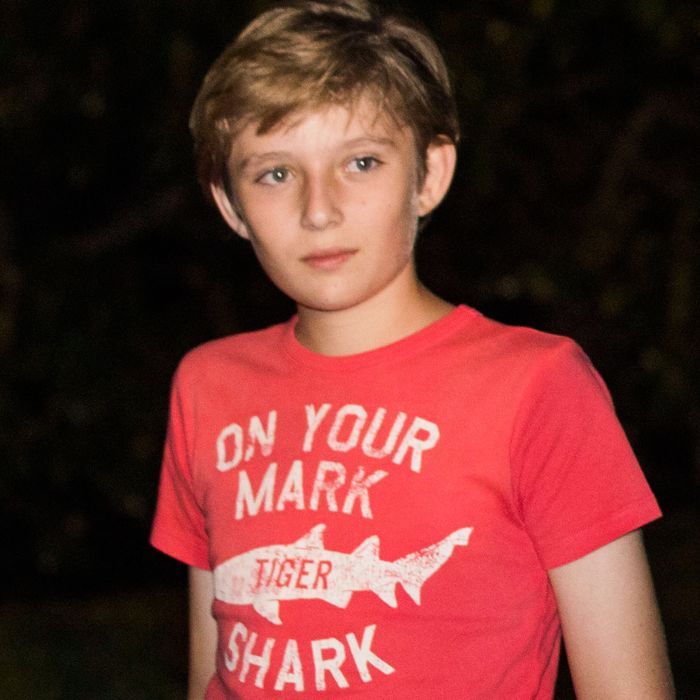 The Trumps.
Photo: Pool/Getty Images
On Sunday evening, the Trump family boarded Air Force One on their way home to Washington, D.C., after spending the weekend in New Jersey. They had an eclipse to catch, and subsequently stare directly at.
The Donald donned a typical blue suit and tie for the trip; Melania wore a yellow Delpozo summer dress, which originally retailed for $2,300 and is already sold out; their 11-year-old son, Barron wore a $24.50 red J.Crew T-shirt bearing the phrase, "On your mark, tiger shark."
Of course, Barron is a child and should be allowed to wear whatever J.Crew T-shirts he wants. But conservative media outlets like the Daily Caller decided that it warranted the headline: "It's High Time Barron Trump Starts Dressing Like He's In the White House." The article then went on to say that instead of rising to the occasion, Barron "looked like he was hopping on Air Force One for a trip to the movie theater."
Chelsea Clinton, who is all too familiar with growing up in the White House, came to the youngest Trump's defense on Twitter, saying: "It's high time the media and everyone leave Barron Trump alone and let him live the private childhood he deserves."
This is not the first time Hillary Clinton and Bill Clinton's daughter has come to Barron Trump's defense, despite their families' history. After a Saturday Night Live cast member wrote an insensitive joke at Barron's expense on Twitter this past January, Clinton responded with a similarly worded Facebook post urging everyone to just let him, "Be a kid."
Maybe J.Crew should put that on a shirt, too.