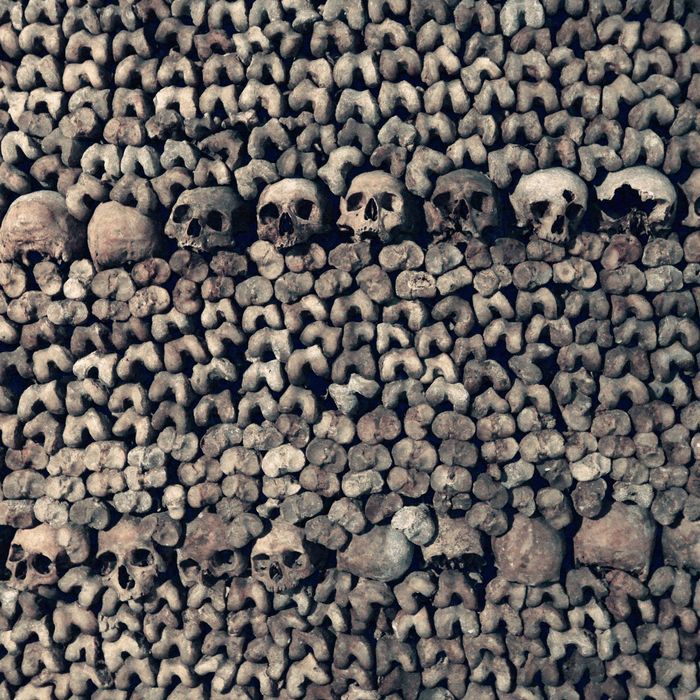 Paris Catacombs.
Photo: DOMINIQUE FAGET/AFP/Getty Images
Only the French could make digging through piles of actual human bones sound glamorous. On Monday night, an unknown number of thieves stole approximately $300,000 worth of wine by boring a hole into a private cellar from the Paris catacombs, the Guardian reports.
After making off which over 300 bottles of vintage grand cru wines, the thieves – whom I like to imagine in lush scarves draped artfully over their narrow shoulders, languidly smoking cigarettes, and never gaining weight no matter how much bread and cheese they consume – disappeared in the maze of 0ver 150 miles of bone-filled tunnels which snake beneath Paris.
Police suspect the thieves scoped out the cellar they wanted to hit before they started drilling through the relatively soft limestone of the catacomb walls.
In addition to spooky wine robbers, the Paris Catacombs hold the remains of over six million Parisians. And although only one mile is open to the public, industrious "cataphiles" (as they are apparently called) find ways to sneak into the 'combs (as they are definitely not called) through secret entrances for parties, secret meetings or, in the case of two teen boys who got lost in the ossuary for 72 hours back in June, a dramatic rescue mission.