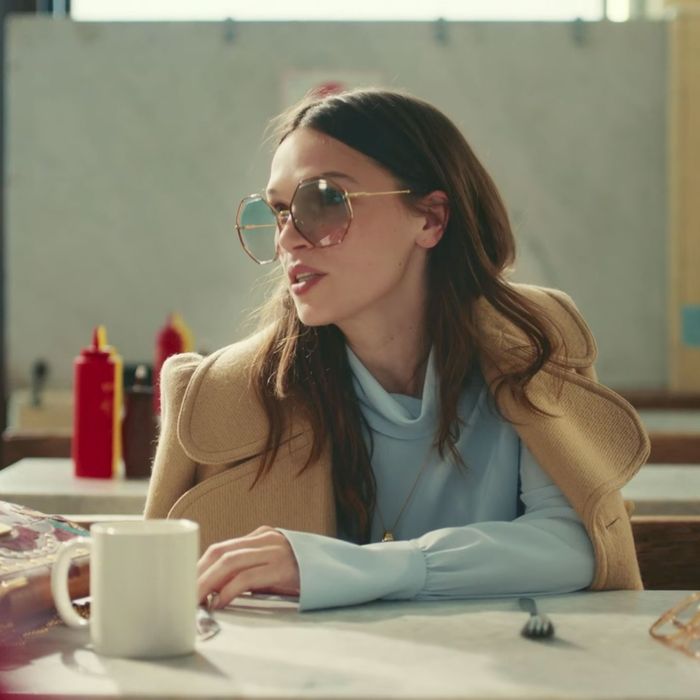 My inspiration.
Photo: Chloé/YouTube
Some clothing is so wrong that it has to be right. In Why Do I Like This? we work through all the feelings that come with finding love in the least likely of places.
One of my favorite guilty pleasures is watching random fashion videos on YouTube. It's unbelievably soothing to take a two-minute mental vacation in a designer's world where everything from deli menus to shoes are perfectly color-coordinated.
While I was watching a Chloé clip for the opening of their new store, there was plenty in that video I normally would latch onto — the camel capes, tassled loafers, a bright-yellow beret. But instead I chose to fall in love with the sunglasses on the high-maintenance blogger character. I wanted the two purple octagons connected by a thin strip of gold, and my obsession far surpassed my normal irritation at the fact she was wearing them inside.
Out-there sunglasses are notoriously hard to pull off, which is why I tend to stay with aviators, wayfarers, and other classic (boring) styles. Nothing says "look at me!" quite like a statement piece covering your face. But 2017 has been the summer of weird sunnies. Kurt Cobain glasses made an unlikely comeback. Aviator lenses turned yellow. Don't believe me? Believe Rihanna.
The appeal in octagonal lenses is that they're just weird enough for the trend-adverse. They don't sparkle, they're not a throwback, and they're not synonymous with a certain '90s rock star. Thanks to the Olsen twins, Nicole Richie, and any other mid-00s Rachel Zoe–styled starlet, people aren't shocked by their large size on the face. The only strange part would be the slightly angular shape but that feels fresh, not bizarre. Plus, you'd have to stare closely to even notice that tweak.
The Chloé ones I initially fell in love with are sadly not available, but like all trends, there are plenty of look-alikes. Thank you, fictional high-maintenance blogger girl in a two-minute Chloé clip for starting my new obsession.
If you buy something through our links, New York may earn an affiliate commission.