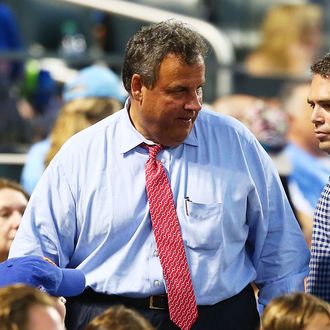 Chris Christie.
Photo: Mike Stobe/Getty Images
Chris Christie has been having the summer of his discontent, with the most recent unfortunate incident occurring at a Cubs-Brewers game in Milwaukee. It was there that the New Jersey governor got directly into a heckler's face, calling him a "big shot," all while clutching a plate of nachos for dear life.
Christie addressed the situation on Wednesday during an "unrelated press conference" in his home state, Politico reports. And he is not apologizing!
When someone asked if he would stop going to baseball games after this confrontation, he responded, "No, I'm going to more." He also would like you to give him, an elected public official, some credit for not throwing his food at the guy.
For those of you who know me, I was very restrained. I didn't dump the nachos on him or anything, which I think was an option.
Was it though?