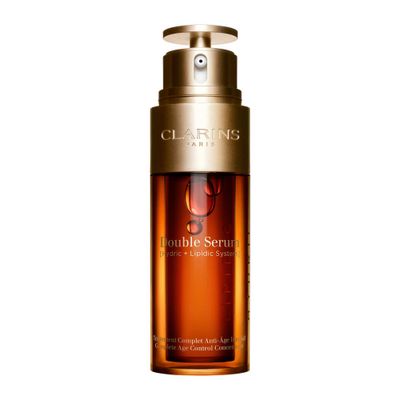 Clarins Double Serum is the brand's number-one seller, and for good reason: It makes skin soft, hydrated, even, and radiant. The "radiance" effect is the best part. Imagine your face on a tropical vacation — plump from all that sleep you're getting, slightly dewy from the moist air, and gleaming. That's what it's like to wear Double Serum every day.
This summer, Clarins introduced a new version of the serum, which was surprising because its predecessor felt so perfect. It's the eighth generation since it launched in 1985, and it introduces turmeric, whose topical benefits include reducing acne and photoaging.
The serum's secret sauce is made up of 21 peculiar-sounding plant extracts, including teasel (said to "boost radiance") and beautyberry (said to boost, uh, beauty). Marsh samphire, one of the serum's ingredients, lowers the skin's "transepidermal water loss" value, which means skin is able to stay hydrated — and healthy-looking — for longer. Another plant, sometimes called leaf of life, reduces inflammation, which is helpful in the case of a breakout. Clarins says the serum can also protect skin from stress due to its cache of antioxidants (edelweiss and ginger, to name a few) and promote an even skin tone.
Double Serum is not a miracle potion, but it does a lot. It's a product that makes your skin look better, even when you thinks your skin already looks pretty great. Clarins says that 83 percent of of women felt their skin appeared more radiant after a week's use. (I actually noticed the effect right away.)
Recently, I took the updated serum for a test drive. As with the older version, the ingredients are encased in two separate chambers to "preserve the integrity" of the fat-soluble and water-soluble ingredients. Depress the pump, and the two separated formulas join together. I patted the semi-lightweight formula on my face every day in the morning, before applying sunscreen. It has a strong floral scent, but that goes away in a few minutes.
Truthfully, I haven't noticed a difference between this new formula and the older version. But I think that's okay. As I said, what came before was perfect.
If you buy something through our links, New York may earn an affiliate commission.