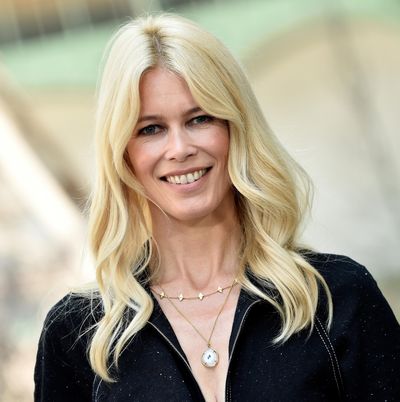 Claudia Schiffer.
Photo: Pascal Le Segretain/Getty Images
Adding to the coterie of supermodel beauty lines, supermodel Claudia Schiffer announced on Instagram that she'll be releasing a limited-edition makeup collection. The eponymous makeup line will be in collaboration with ArtDeco, Germany's prestige color cosmetics brand. It's Schiffer's second foray into the beauty world, with her first being a hair-care collection with Schwarzkopf (the Daily Mail also reported back in 2009 that Schiffer was working on a makeup line).
Makeup artist Lisa Eldridge teased a shot of the products this morning on her Instagram, which showed millennial-pink-and-gold-packaged eye shadow, nail polish, lipstick, and more. Look for it to be out in September, and here's hoping some "lovely" ghosts helped Schiffer create the collection.