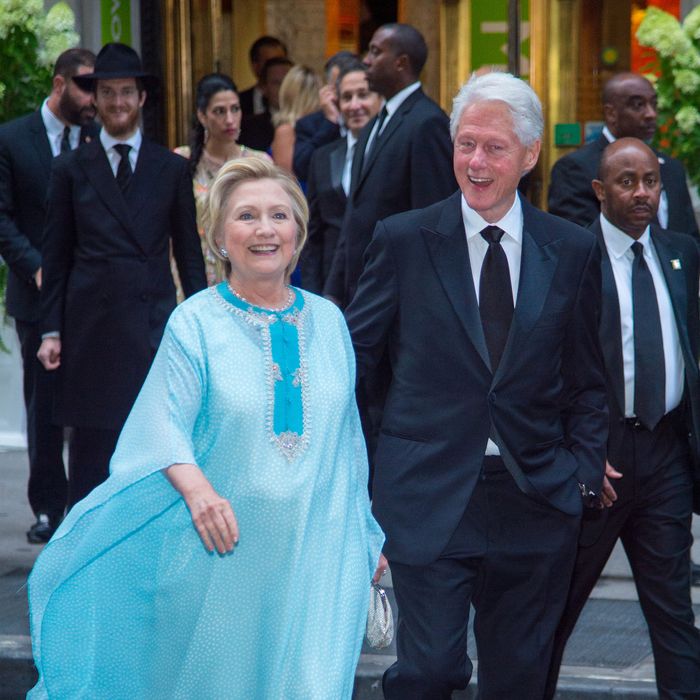 Hillary Clinton, her caftan, and Bill Clinton.
Photo: Splash News
Some rich-people weddings have $1 million Swarovski-crystal wedding dresses; others have soundtracks curated by Skrillex. But one recent rich-people wedding had literally everything you could possibly want in a rich-people wedding, including a wall full of roses, Tiffany Trump, a customized vintage taxi, and Hillary Clinton in a caftan.
As Vanity Fair reports, Hillary Clinton, her husband Bill, and her caftan attended the Sunday wedding of billionaire hedge-fund manager and major Clinton-campaign donor Marc Lasry's 24-year-old daughter Sophie Lasry to 25-year-old Alexander Swieca, the son of a different billionaire hedge-fund manager, Henry Swieca. The nuptials went down at Cipriani Wall Street in New York City, and guests also included Huma Abedin, Jennifer Lopez, Alex Rodriguez, and most importantly, Real Housewife Dorinda Medley.
Several guests posted pictures of the high-profile nuptials on social media, giving all of us mere peasants the opportunity to gawk at the black-tie event's attendees' fabulous outfits.
The only thing missing from this wedding was a dance performance from Marla Maples.