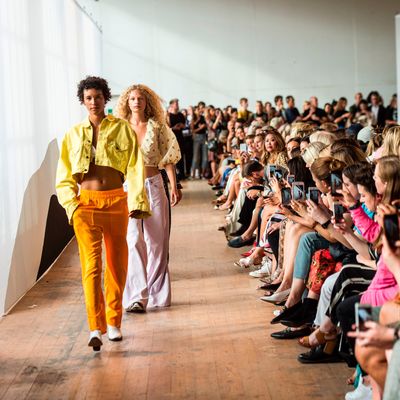 Ganni.
Photo: Sofie Mathiassen/AFP/Getty Images
Fashion Week, as a rule, is not chill. Everything is the most, the best, the newest; sleep is for the weak, not the chic. But leave it to the Danish — inventors of hygge, a lifestyle that's all about embracing coziness — to create a fashion week that's as relaxed as it is stylish. Copenhagen Fashion Week is a crash course on how to remain Zen while still being massively fashionable.
Cecilie Ingdal, editor in chief of Elle Denmark, described it best in the CPHFW Daily. "Sustainability and fashion merge with Scandinavian cool, a combination that has become a Danish signature, working well both on the runway and on a bicycle. CFW is a small and intimate fashion week compared to others in Europe."
While other fashion weeks seem racked with existential dread and are trading high-profile shows like baseball cards (or something more glamorous), Copenhagen Fashion Week plugs away doing what it does best: creating enviable designs and street style. And that calm creativity is like ASMR to the fashion-y set. So change into a caftan and scroll on below to see the best moments of Copenhagen Fashion Week, from a sleep-themed show to colorful butterfly clips.
Ganni, one of the most anticipated shows of the week, posted this on their stage door.
The official Copenhagen Fashion Week board made a list of the best bike routes for the week.
The models at Cecilie Bahnsen wore Keds-like sneakers with voluminous dresses — doesn't get more bicycle-ready than that.
There was "I literally just jumped out of the shower" hair at By Malene Birger.
The theme of Henrik Vibskov was sleep (seriously).
The whole presentation for Julie Fagerholt/Heartmade fit on one couch — Friends style.
But the best moment of Copenhagen Fashion Week was when Saks Potts, normally the purveyors of outrageous furs, used butterfly clips in their show.
Not enough Danish ASMR for you? Click ahead to see the best street style from the week.