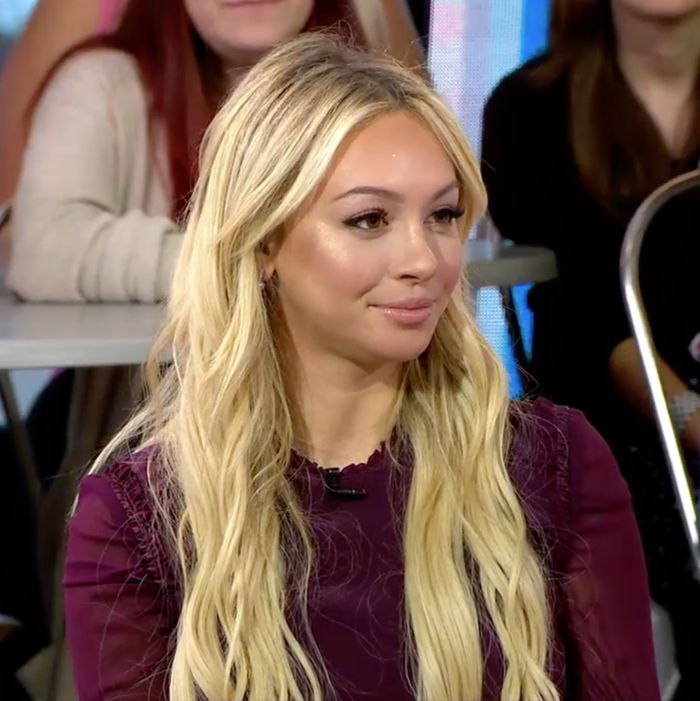 Corinne Olympios.
Photo: GMA/ABC
In her first live interview since leaving Bachelor in Paradise, Corinne Olympios appeared on Good Morning America Tuesday to discuss the allegations and investigation into reports that DeMario Jackson sexually assaulted her on the show. (Warner Bros.'s internal investigation found no evidence of misconduct, while Olympios's own team conducted an investigation into the incident in question and decided not to pursue further action.) In the interview, Olympios explained that she has no memory of the incident in question, as she was on a form of medication that can cause blackouts and impair judgment and balance and is not supposed to be mixed with alcohol, something she says she was unaware of at the time. "It was like I went under anesthesia," Olympios said of the combined effects of the alcohol and medication.
Olympios also confirmed that she had "seen some of the footage" of herself and Jackson that was central to the investigation, as well as the footage that aired on Bachelor in Paradise. "It's like I'm watching … not me, I'm watching someone else," Olympios said of watching herself. She said she is planning to wean herself off of the medication that caused the blackout, and added that she does not blame the producers of Bachelor in Paradise for taking precautions in shutting the show down for the investigation.
In an interview with People, Olympios discussed many of the sentiments she expressed on GMA in more detail, and elaborated on what she meant when she released a statement calling herself a "victim" while the investigation was ongoing. "At that point in time, I saw myself as a victim of having something this serious happen to you and have the media paint you a certain way that you know you aren't and having all these people make their judgments and comments and they don't even know what happened or went on," Olympios said. "That's what I'm a victim of. I never meant that I was a victim of DeMario. I strongly believe he had no bad intentions at all. It was all good. It was unfortunate that no one really knew how intoxicated I actually was at the time. I believe that nobody knew that. It was nobody's fault. I was a victim of not really knowing what happened at the time. We were just really trying to get to bottom of everything."
Bachelor in Paradise will air an interview between Olympios and host Chris Harrison tonight.