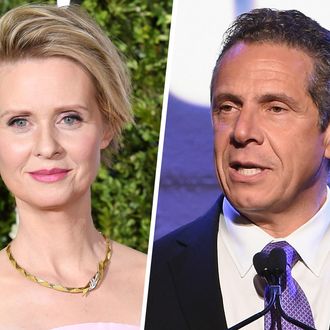 Cynthia Nixon, Andrew Cuomo.
Photo: Getty Images
In 2018, Andrew Cuomo will run for his third term as New York governor. Perhaps he will win or perhaps — in a highly unlikely scenario but a possibility nonetheless — he will be defeated by Miranda from Sex and the City in the Democratic primary.
On Thursday, The Wall Street Journal presented three potential candidates to primary Cuomo: Syracuse mayor Stephanie Miner, former state legislator Terry Gipson, and … Cynthia Nixon.
The former "Sex & the City" star is being encouraged to run by liberal groups. Her candidacy has been floated before, but she shot it down in the past. Associates of hers said she is now considering it. She declined to comment.




Ms. Nixon, 51, has emerged as a liberal activist, campaigning in 2013 for New York City Mayor Bill de Blasio, and criticizing Cuomo policies on "The View" television show.
At this point, I'm pretty sure New York City residents would vote for Baby Brady if he promised to fix the subways.