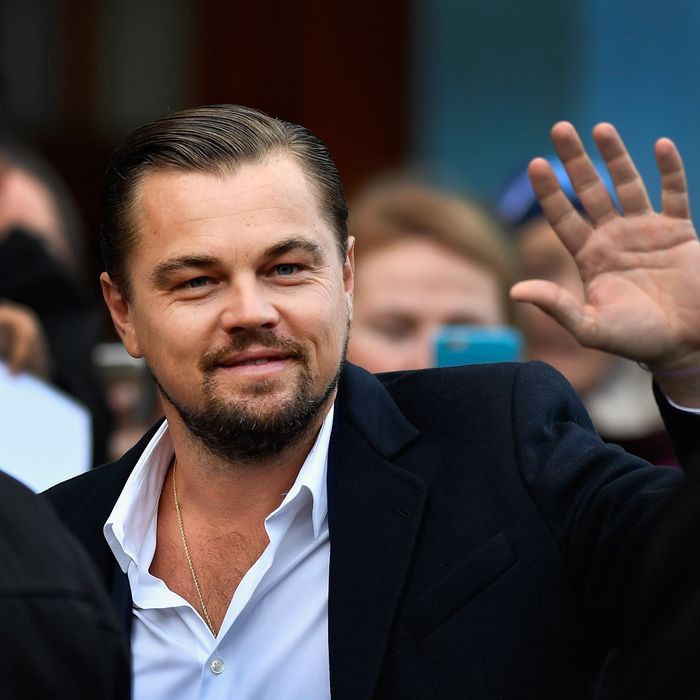 Leonardo DiCaprio.
Photo: Jeff J Mitchell/Getty Images
Until just now, I was under the impression that Leonardo DiCaprio, 42-year-old bag man and founding father of the Pussy Posse, suffered from a rare and incurable form of color-blindness that made it impossible for him to differentiate dark-haired women from the world around them. I imagined him bumping into brunettes and looking around, confused, unsure of what invisible mass had disturbed him from his vape. But now it seems Leonardo DiCaprio might not only be able to see brunettes, he might even be dating one!
According to "Page Six," Leo has been spotted hanging out with Lorena Rae, a woman who meets all of his criteria (she's a model; she's not old enough to rent a car), except for the fact that her hair is decidedly darker than bronde.
Although a rep for DiCaprio insists, "they're not dating," the pair have been spotted doing all the things Leo usually does with blonde models: They Citi Biked together, they hung out in Monaco, and partied on a yacht with Leo's fellow Pussy Posse member Tobey Maguire. They were even spotted having lunch on Park Avenue, where a witness says they seemed "like an item," and when they walked out together "he pulled down his hat over his eyes." And there's nothing Leo loves more than a good disguise.
Will true love finally conquer hair color? We can always dream.