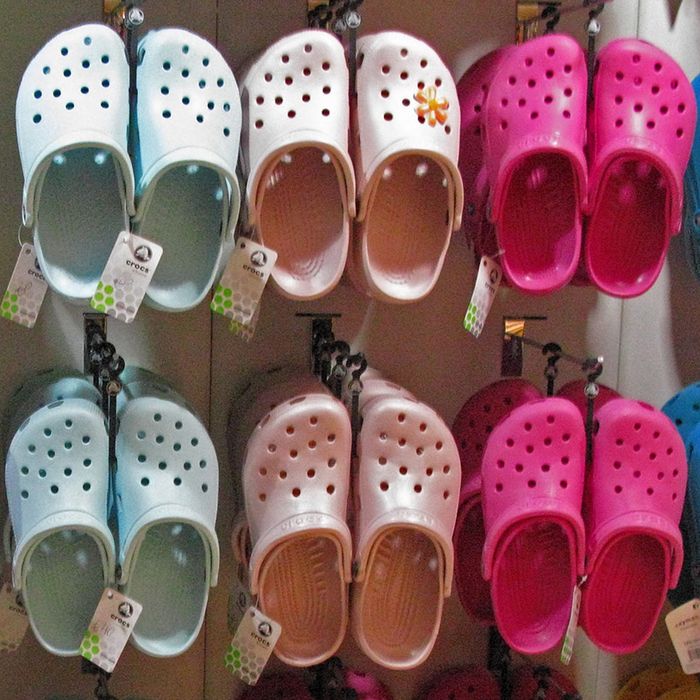 Crocs.
Photo: Universal Images Group/Getty Images
Someone please go check on Mario Batali, because his beloved Crocs are reportedly in danger. Last week, the plastic-clog maker's design patent was rejected after a five-year legal battle against a competitor, which has led many to wonder whether Crocs' days are numbered.
As Footwear News reports, the U.S. Patent and Trademark Office recently issued a final rejection of the design patent for Crocs Inc.'s cornerstone shoes. The agency found that a different company had filed for a similar patent a year before Crocs, ending the Colorado-based company's five-year lawsuit against competitor USA Dawgs — merely one of several companies Crocs has accused of infringing its molded-clog design.
Crocs is planning to appeal the decision, but as the New York Post points out, the ruling was a "major blow" to the company, which was already struggling for survival. Crocs announced in March that it was closing 160 stores over the next two years. The company's revenue also dropped 3.3 percent during the most recent quarter — an improvement over the company's 10 percent decline during the year's first quarter.
No word on what this means for Fashion Crocs.