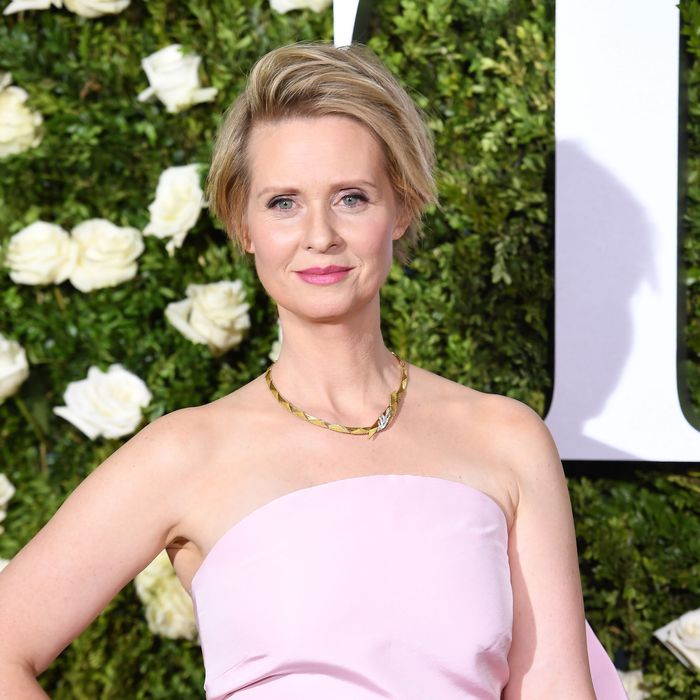 Cynthia Nixon.
Photo: ANGELA WEISS/AFP/Getty Images
Last week, The Wall Street Journal reported that Cynthia Nixon is one of three prominent Democrats considering a primary run against Andrew Cuomo in his 2018 reelection bid for governor of New York. Since then, people have been buzzing with questions like "Wait, what?" and "She was Miranda, right?" and "So are all celebrities politicians now, or …?" Although Nixon has yet to confirm her candidacy, the former Sex and the City star spoke with Us Weekly on Monday about what sound suspiciously like the beginnings of a political platform.
The public school system is so broken in New York State. We're 49th in terms of equality in school funding — out of the country, 49th! That's because of the way schools are funded. They're funded with property taxes spawned from back room deals, the senators in Albany who have more power get more funding, we have to throw all that out. It's very complicated, but we have a funding formula that works that out and closes that gap if our state constitution gives us the right to a sound basic education system.
She added, in what would be an appropriate concluding statement for, say, a televised political debate:
We all have to come together to agree on some truths and those have to be: What our country is doing, what we think is right and what is not OK.
This would not be Nixon's first venture into New York politics. She campaigned extensively for Mayor Bill de Blasio, and in 2014 he put her on the advisory board of the Mayor's Fund to Advance New York City.
Still, analysts are calling her candidacy a long shot, so it's unlikely that Sex and the City tours will have to incorporate a stop in Albany anytime soon.