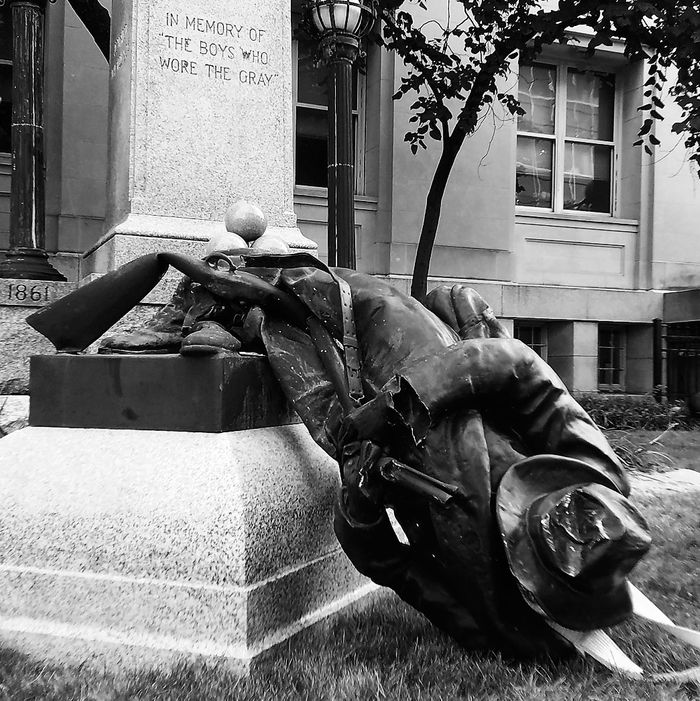 Protesters toppled a Confederate statue in Durham, North Carolina.
Photo: Virginia Bridges/AP
A number of Confederate monuments have been taken down across the country after white nationalists clashed with counterprotesters in Charlottesville, Virginia, ostensibly over the removal of a statue of Robert E. Lee. And as calls to remove the statues increase, the group that helped to erect many of them is taking it personally.
The United Daughters of the Confederacy, a national organization made up of women whose ancestors served in the Confederate army, is "reeling," Susan McCrobie — the Kentucky chapter's former division president and current historian — told The Wall Street Journal. Recalling the removal of the Confederate monument from the Hollywood Forever cemetery, another UDC head said she "feel[s] very hurt, like this is not my America." Hmm.
According to the Southern Poverty Law Center, there are about 700 monuments and statues commemorating the Confederacy in the U.S., and McCrobie says the UDC was the "key organizer and fundraiser" for most of them. The group's efforts were partially responsible for spreading the myth that the Civil War was not, in fact, fought over slavery, a Sam Houston University professor told WSJ. Along with erecting monuments that one historian said "were placed prominently in public areas and sought to pay tribute to the Confederate cause and convey white dominance," the UDC established textbook commissions to make sure children were learning a "fair and impartial" history of the war.
Nowadays, the organization has mostly moved on to funding scholarships and honoring veterans, but its members are alarmed at the fallout from Charlottesville — including the passion Richard Spencer's ilk has shown for defending the statues. "The UDC has nothing to do whatsoever with white supremacy," McCrobie said. Nothing at all.