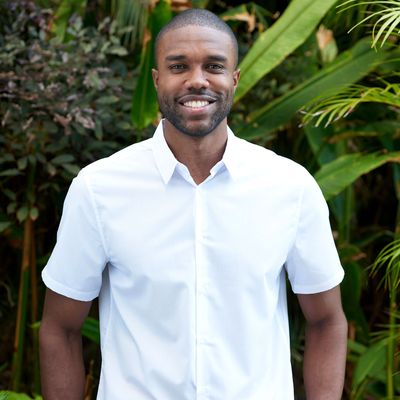 Jackson.
Photo: Bob D'Amico/ABC
In a new interview with The Hollywood Reporter, DeMario Jackson reflects on the now-infamous Bachelor in Paradise scandal that temporarily shut down production of the show's fourth season. Allegations of misconduct swirled around a sexual encounter he had with fellow contestant Corinne Olympios, accusations he feels were fueled by racism (Olympios is white) and a rush to judgement. "I just told my truth. Unfortunately, we live in a society where the whole world is going to side with the woman. Even when the story doesn't make sense," Jackson told THR.
Footage leading up to the encounter aired on BIP, but not the encounter itself. Jackson scoffs at the idea that anything untoward could have happened while the cast was constantly being monitored, pointing to the show's omnipresent production staff: "You're on a multi-million-dollar set with 50 to 100-plus cameras, 300 workers and an entire production. I love how [castmate] Alex [Woytkiw] was giving the play-by-play with what was going on with me and Corinne when we were in the pool, because it showed all the production, all the people and the castmates watching." Warner Bros. TV subsequently reviewed the footage in question and declared that no wrongdoing had occurred.
According to Jackson, the producer who reported the possible misconduct was, in his words, "Corinne's best friend," someone known to him and the cast. Jackson says he remains baffled about the incident, one that he maintains was consensual. "It was 100-percent consensual. She hopped in my arms, she pulled me into the pool. You've seen that with your own eyes," he says. "I think people wanted it to be something different. They wanted the angry black guy and this little, innocent white girl. But it wasn't." In Jackson's opinion, a racist interpretation of their interracial sexual encounter led outside observers, and eventually the public, to stereotype him as a villain. "If I would have been Alex or Derek [Peth, two white contestants], we wouldn't even be having this conversation," he says. "If anyone argues, tell them to Google 'Charlottesville.' That's the world we live in. Look who our president is. Just tell them to look up what Trump said. It's always the white guy who says race didn't play a factor." Explains Jackson, "I would hate for my biggest enemy to go through what I've been through this summer," a sentiment that has not stopped the show from using the controversy as entertainment in the new season.