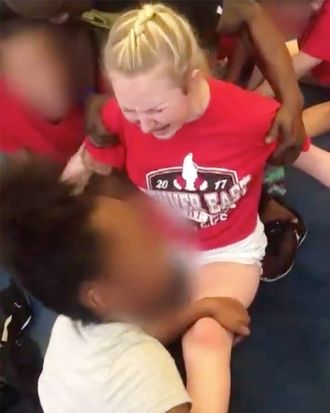 A still from the viral video.
Police in Denver are investigating allegations against a high school cheerleading camp after a video showing a 13-year-old girl being forced into a split position by her coach and teammates as she screams in pain went viral, the New York Times reports.
The Denver Police Department announced on Wednesday that it had "received anonymous information regarding the incidents involving a cheerleader coach at East High School, and Denver Police child abuse detectives immediately began an investigation." The statement came after a video made the rounds, depicting an incoming freshman crying and screaming "please stop" as her cheerleading coach, Ozell Williams, and teammates appeared to force her into doing a split while holding her legs down and pushing on her shoulders.
The video was sent to NBC affiliate KUSA, which said in a report that additional videos of the incident show eight cheerleaders being forced into the same position. The coach, Williams, told KUSA he learned the technique as a kid, but wouldn't provide further details. The Times notes that this is Williams's first year as a coach at East High School — and that he's "somewhat of a local celebrity," as he regularly tumbles at Denver Broncos and University of Colorado football games.
As a result of the investigation, five officials from Denver Public Schools have been placed on leave, including East High School's principal, assistant principal, and cheerleading coach, the school district's superintendent Tom Boasberg said in a Wednesday statement. However, he noted that placing those officials on leave was "standard practice."
Yet, the school was made aware of the incident back in June, when Kristin Wakefield — whose daughter appears in the viral video — emailed the assistant principal (who was later put on leave). In the email, she asked what the school planned to do about the incidents, and attached a video of her daughter. "This is a grown man pushing my 13-year-old girl so hard against her will, while she's crying and screaming for him to stop, that he's ripping tissues in her body," Wakefield told KUSA.
The Denver Board of Education released a statement on Thursday, saying it was "deeply disturbed" by the videos. Boasberg, the superintendent, also issued a second statement saying that counselors at the high school were speaking with the cheerleading team.