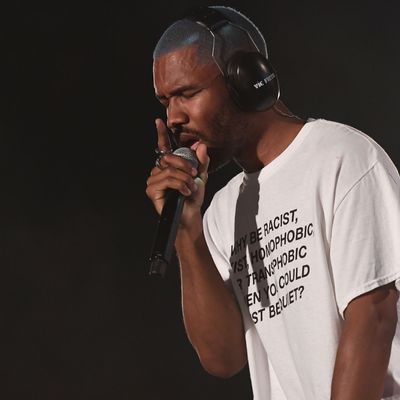 Frank Ocean at the Panorama Music Festival.
Photo: ANGELA WEISS/AFP/Getty Images
The maker of Frank Ocean's Panorama Music Festival shirt is facing copyright questions after it was revealed that the quote on Ocean's shirt came from a 2015 tweet by Brandon Male, who said he had not been paid or credited for the company's use of the phrase, according to the New York Times.
Following Ocean's headlining performance on Friday night, in which the singer wore a plain, white T-shirt with the words: "WHY BE RACIST, SEXIST, HOMOPHOBIC, OR TRANSPHOBIC WHEN YOU COULD JUST BE QUIET?" fans identified the maker of the shirt as Green Box Shop, an online store founded by 18-year-old Kayla Robinson. The store was inundated with 5,500 orders overall in the two days after Ocean's performance.
But questions were raised about the shirt's quote even before Panorama. Male, an 18-year-old student from Syracuse, NY, tweeted the words in August 2015. When he saw them on one of Green Box Shop's shirts earlier this year, he reached out to the company who, he says, mostly dismissed him.
"They told me I needed to calm down and said they credited me on Instagram one time," he told the Times. "I ended up letting it slide after that."
Robinson said she was not aware of Male's tweet or request until recently, and said she got the quote when someone direct messaged the company in the fall of 2016. "They didn't send me a screenshot or anything," she said.
Green Box Shop added a link to Male's tweet at the bottom of their product page, and Robinson said she called Male to apologize and discuss numbers.
While it remains unclear whether tweets fall under copyright protection, Robinson says she wants Male to get the credit he deserves.
"Moving forward when people message me with shirt ideas, I should do more investigating," she said. "It would be pretty irresponsible of me to just take it. Being a creator myself, people have copied my shirts before, I totally understand Brandon. Even if it's a tweet, I have to respect that."