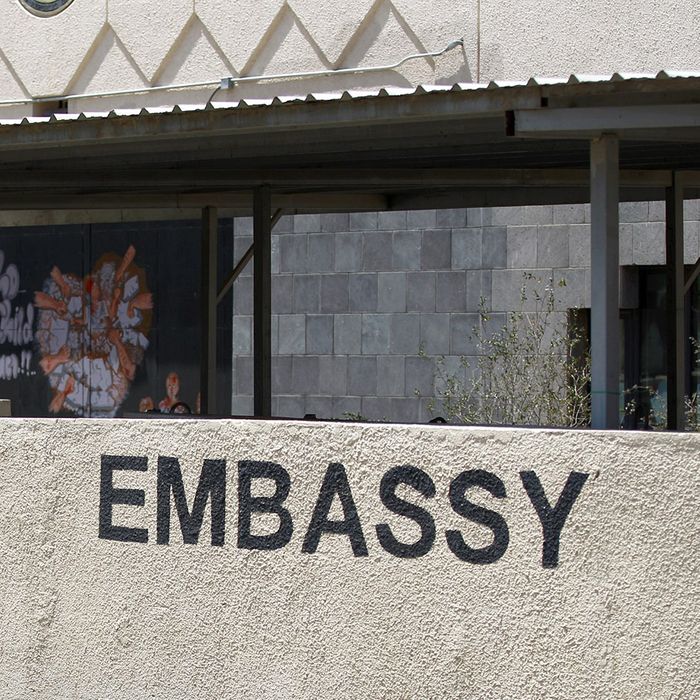 U.S. Embassy in Yemen.
Photo: MOHAMMED HUWAIS/Stringer/AFP/Getty
On Monday, a former U.S. diplomat who had been posted at the U.S. Embassy in Yemen was found liable — for the second time — for enslaving and sexually trafficking a housekeeper from Ethiopia. The former envoy, Linda Howard, and her Australian husband, Russell Howard, were also found liable for trafficking another Ethiopian housekeeper five years ago, the Washington Post reports.
Howard and her husband were posted in Sanaa, Yemen, in 2007 while she worked as a foreign service officer at the U.S. embassy's information program center. They allegedly promised the Ethiopian housekeeper —known as Sara Roe in the proceedings — a monthly salary of $150, visa assistance, medical care, help for her daughter, and the chance to join the family in Germany. Yet, according to the Post, Roe was forced to work up to 90 hours a week, had her passport taken, was dragged to a hospital to get an IUD, and was repeatedly raped by both Linda Howard and her husband.
"I cried all the time," Roe wrote in an affidavit. She also reportedly worried about the social and legal consequences she could face in Ethiopia of being raped by a woman, since it is "shameful and illegal to have homosexual contact" there, she wrote. Eventually, after seven months, Roe was allegedly kicked out of the Howards' house. Linda Howard helped her get a job at a restaurant on the compound — but Roe believes that was done with the intention of keeping her silent.
A Virginia federal jury on Monday found Linda Howard, who left the State Department in 2013, and her husband, who died in 2012, liable for enslaving and trafficking Roe. The Post notes that the ex-diplomat denied the charges and tried to argue in court that Roe couldn't sue under a human-trafficking law that didn't pass until 2008.
According to the Post, the allegations made by Roe are quite similar to those made by Jane Doe, another housekeeper who won a civil suit against the Howards in 2012 for being repeatedly raped, isolated, and threatened by the couple. When Jane Doe fled in the middle of the night, Russell Howard reportedly followed her and filed charges against her in Ethiopia. They were ordered to pay Doe $3.3 million, but they had already fled to Australia to contest the judgment, and the case was reportedly settled in 2015.
Attorneys for Howard and Roe didn't respond to the Post's request for comment.