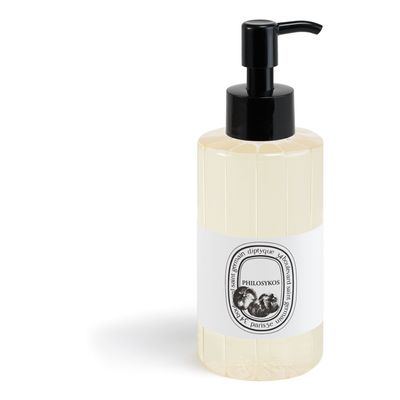 There are some things which can be faithfully relied upon to be great: Patricia Lockwood's tweets. Hot doughnuts. Beyoncé performances. Pat McGrath makeup launches. And, of course, Diptyque products.
Duh, you are probably thinking. But ages ago, Diptyque used to be a secret held close by fashion editors at Vogue, who, as Plum Sykes describes, would make "annual pilgrimages" to the St. Germain district to buy candles so expensive that lighting them felt like burning fragrant money. Little has changed now that the secret is out. The candles still smell great, their packaging still conveys a sense of fancy home design, they're still pricey — and yes, they're still great. Their newest launch, Fragrance Gestures, continues their track record of excellence and has become the best thing in my bathroom.
A bath-and-body extension of Diptyque's best-selling scents, the collection has made the routine chore of cleansing my body of bacteria and dirt into a daily joy. There are no bells or whistles — no glitter, nothing that turns into a surprise foam — just the fragrances everyone loves: Roses, Do Son (the Tuberose candle scent), Philosykos (the Figue candle scent), and L'Ombre dans L'Eau (the Baies candle scent).
The Philosykos Gel infused my whole bathroom in a cloud of green, figgy steam and produced tiny, lovely bubbles. The L'Ombre dans L'Eau Body Balm smells even better than the Baies candle and gives me what I'm convinced are the best-scented, least-chapped ankles in New York. And the Do Son Body Mist makes me think that this whole humidity thing really wouldn't be so bad if the air smelled like tuberose.
Each bottle will also make your bathroom look better thanks to subtle aesthetic touches such as swirled beveling on the package. Uniquely, although there are two or three products per scent, Diptyque varies the fragrance concentration for each product so that each appears to be scented differently. If you're lucky enough to be invited somewhere fancy to stay for a weekend, this is the best hostess gift — but honestly, you're probably going to want to keep it for yourself.
If you buy something through our links, New York may earn an affiliate commission.