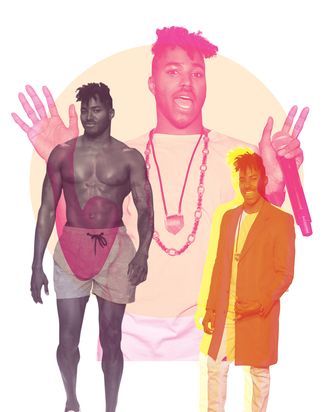 DJ Ruckus.
Photo-Illustration: Stevie Remsburg
DJ Ruckus (government name: Greg Andrews) is so devoted to fitness that whenever he travels to another city — which, as a celebrity DJ, he does often — he always tries to hunt down the best local gym. The Cut caught up with the DJ, who is engaged to Victoria's Secret model Shanina Shaik, on a recent phone call. Read on to find out why he doesn't eat meat in the mornings, how he prepares for flights with yoga, and where all the cool people go to work out in Los Angeles.
How I start my day: I try to be up by 9:40, 10 a.m. at the latest. I have breakfast first and then I head directly to the gym so I can get that out of the way. I try to consume as much music as possible, so I'm listening to music first thing in the morning, and while I work out.
I try to stay away from meat for the first meal of the day because breakfast is the easiest meal to make veggie. There's this place that I love to go to called Cafe Gravite. They have this dish called the Paleo Hash with kale, sweet potato, a hard-boiled egg, and that's usually my breakfast.
Why I meditate: I like to meditate in the morning for 5, 10, or 30 minutes. It sets your mind at ease. When you're DJing, there may be some technical issues, or some bottle-buyer in the club who spent $100,000 on Champagne and wants you to play something that's completely left of what you're playing and it changes your whole trajectory. It's important to stay calm and comfortable, and that comes from meditation.
My approach to nutrition: I'm not a vegetarian, but I'm always looking for the healthier version of foods. In general, I try to cut out meat as much as possible. When my body isn't digesting heavy food, I feel lighter, stronger, and healthier overall. I used to drink fresh juice all the time, but that's basically a bucket of sugar. I especially love fish and sushi. I watch mercury levels as much as I can, or I try to pick up smaller fish. I have a fast metabolism so I can eat what I want without veering too far from my mark of where I want to be fitness-wise. I drink a lot of plant-based protein shakes as well. The less chemicals and science involved, the better.
How I like to sweat: I probably have a gym membership in every country. In L.A. I go to Unbreakable, which is probably the most sought-after and premier gym in the area. They train everyone from ball players to MMA fighters. They're also health conscious, where they have vitamin IVs and laser-surgery stuff. They have this thing called Normatec that we use to work with circulation after a tough workout.
But basically I go to boxing gyms everywhere — New York, Miami, places that I travel to for work. I always like to keep up [with] who the best trainers are and which are the best gyms in each city. I also love muay thai. I like a lot of agility stuff, like jumping around, using the kettlebells, core workouts. When I'm with my fiancée I do SoulCycle or yoga — I love yoga, even though I don't go a whole lot. I'm probably the most calm and collected when I'm there, though I try to go before flights so I won't be antsy or anxious on the plane. But mostly I'm a workout guy and like to lift heavy stuff.
What wellness means to me: It can be as simple as drinking enough water every day. It can also mean how you carry yourself, how you engage with other people. I'm a Libra and am lucky to be able to not hold grudges, and to not try to control things I can't control. Being a happy person is just as important as keeping your body healthy and working out. It's the overall homeostasis of the body and mind.
How wellness has changed for me: Nutrition has changed for me. As I've grown older and learn more, I know to avoid sugar, processed foods, and to be aware of where my water is coming from. It's my awareness that has really changed.
My wellness struggle is: I drink a lot of alcohol because I'm in the nightlife business. I'm sure I'm also suffering from hearing loss, so I wear earplugs whenever I can. I know that if I want to stay in this game for a long time, I need to protect my hearing.
It's my favorite water brand.
The Oil-Free Acne Wash from Neutrogena is one of my favorites for good skin.
They're pretty healthy and flavorful, not like twigs and berries.
This interview has been edited and condensed.
If you buy something through our links, New York may earn an affiliate commission.