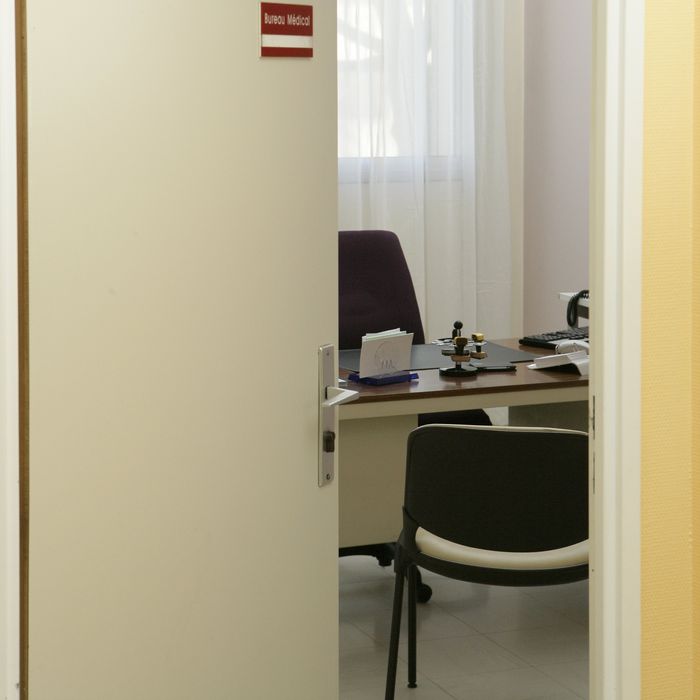 OB/GYN office.
Photo: BSIP/UIG via Getty Images
In a series of glib emails that surfaced earlier this month, French gynecologists reportedly suggested that victims of faulty pelvic mesh try anal sex as an alternative to vaginal penetration.
Lawyers referenced the emails on the opening day of a class-action lawsuit against Johnson & Johnson, the company that manufactures the surgical mesh. The suit was brought by Australian women who claim to have suffered complications following the insertion of the mesh, and say the device causes them "chronic and debilitating pain."
In the email thread presented to the court, doctors and a Johnson & Johnson marketing manager discussed how to talk about sexual alternatives with women complaining of painful intercourse due to faulty pelvic mesh. "It is no less true that sodomy could be a good alternative!" one doctor wrote. Another, perhaps jokingly, worried about his own reputation were he to broach the topic with patients:
I said to myself, there you go, for your next prolapse [patient], you talk to her about orgasms. OK! But also about fellatio, sodomy, the clitoris with or without G-spot etc. I am sure of one thing: that I would very quickly be treated like some kind of sex maniac (which, perhaps, I am) or a pervert, or an unhealthily curious person.
The comments upset victims and members of the Australian Pelvic Mesh Support group, who felt the comments made light of women's suffering, and indicated that the doctors saw women as nothing more than sex objects for men. In one anonymous comment to The Guardian Australia, a woman said the emails suggest "a woman is nothing more than a receptacle to satisfy men and that 'any hole will do.'"
Rachel Siewert, the Australian senator chairing the inquiry into Johnson & Johnson's devices expressed disgust at the way pelvic mesh victims have been treated:
The way many women have been treated when trying to get treatment and support when they have had bad outcomes from mesh implants is appalling, including suggestions by medical professionals that anal intercourse is an alternative to vaginal intercourse after mesh implants have gone terribly wrong.
This is one of multiple high-profile lawsuits Johnson & Johnson has faced recently. Last week, the pharmaceutical giant was ordered to pay $417 million in damages to a woman who claimed she developed ovarian cancer after regularly using the company's talc-based products.