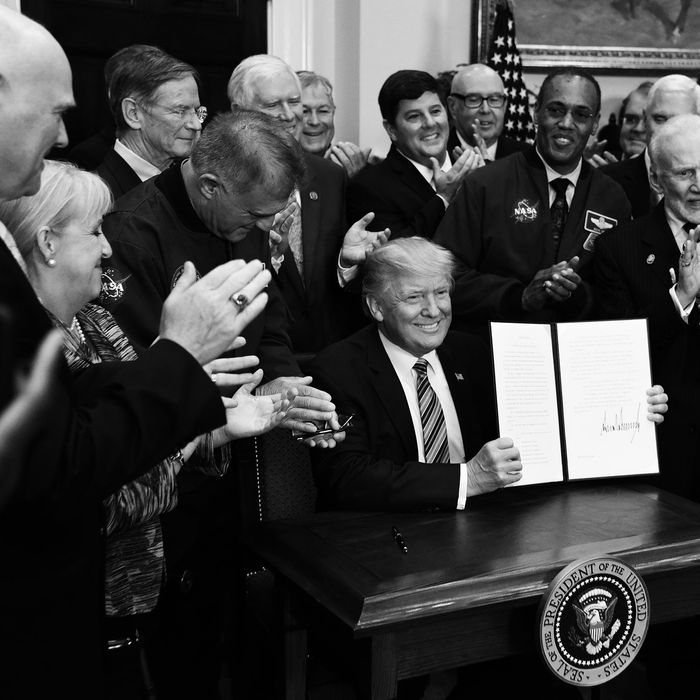 President Trump has posed for hundreds of photos behind the Resolute Desk.
Photo: Pool/Getty Images
President Trump has talked openly about missing his former career — "I loved my previous life … I had so many things going," he told Reuters last spring. But if there's one part of his new job he seems into, it's all the presidential photo ops. He seems to love having an official White House photographer around, and on Monday Politico reported that posed photos are his favorite part of the job.
According to Politico, he asks anyone who's standing around to take photos of him with visitors, and he'll often inspect them over their shoulders:
"Check the lighting," one senior White House official said, describing his comments. "Are your eyes closed? Do you want another? He knows these are special moments for people."
They're also special moments for him, apparently — aides say he "appears happiest when showing the Oval Office off, almost seeing it as the ultimate prize." Those photos project the presidential image he wants, and his staff is quick to distribute them.
"It's the fastest I've seen them do anything," said one adviser who posed for a photo with the president.
When asked, the White House said it was "impossible" to know how many photos the president has taken with visitors. Hope Hicks, the administration's interim communications director, said in a statement that "the president is incredibly generous and is very proud to welcome visitors to the Oval Office."