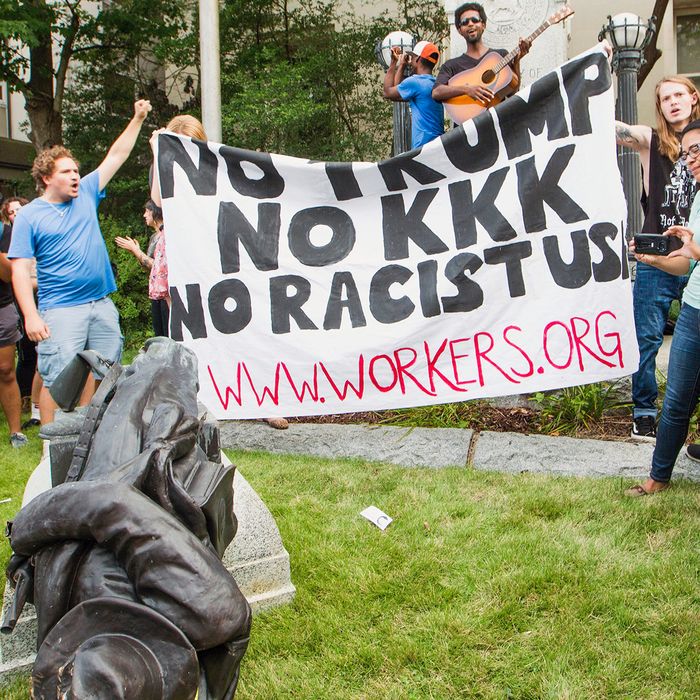 Protesters toppled a Confederate statue in Durham.
Photo: Casey Toth/AP
On Monday activists in Durham, North Carolina, pulled down a statue of a Confederate soldier in the city, in response to the recent deadly white-nationalist rally in Charlottesville, Virginia. Soon after, the Durham Sheriff started arresting protesters who allegedly participated in the toppling of the statue. But on Thursday morning, dozens of people rallied against the charges and attempted to turn themselves in as well, in a moving show of solidarity.
Officials across the U.S. called for local symbols of the Confederacy to be removed after white-nationalists held a deadly protest against the planned removal of a Robert E. Lee statue in Charlottesville over the weekend. But some activists in Durham decided to take matters into their own hands, pulling down the city's Confederate Soldiers Monument themselves. On Tuesday, Sheriff Michael D. Andrews announced that he planned to use "every legal option available to us" to arrest those who participated in the tearing down of the statue, the New York Times notes.
Shortly afterward, deputies reportedly began raiding the houses of those believed to be involved in the demonstration and arrested four people, including North Carolina Central University student Takiya Thompson. "I chose to do that because I am tired of living in fear. I am tired of white supremacy keeping its foot on my neck and the neck of people who look like me," Thompson said before her arrest. "I was inspired by a history of black activists and history of black organizing."
In multiple videos and images posted to Twitter on Thursday, activists gathered around the Durham courthouse and marched toward the city jail to demand the charges be dropped — and to try to turn themselves in, too. Protesters also spoke of the importance of solidarity, and of the danger of authorities targeting anti-racist freedom fighters.
Three of the rally's attendees, who had warrants out for their arrest, were taken into custody after turning themselves in, ABC11 reports. However, those who attempted to turn themselves in symbolically were apparently "turned away," according to ABC11.