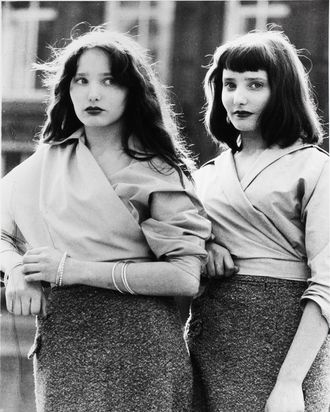 Ed van der Elsken's
Jumelles sur la place Nieuwmarkt
, Amsterdam, 1956.
Photo: Nederlands Fotomuseum Rotterdam. © Ed van der Elsken / Collection Stedelijk Museum Amsterdam
Dutch street photographer Ed van der Elsken (1925–1990) searched for what he deemed "his people": eccentrics whose style defied convention in postwar Paris, and later Amsterdam and Tokyo. His most iconic images are showcased in the Paris exhibition "Camera in Love," which provides a glimpse of fringe kids from the 1950s to 1980s.
Born in Amsterdam in 1925, van der Elsken first studied sculpture, then photography; he began snapping away in the streets of Amsterdam, and assisting photographers to save up for his own Rolleicord camera. In 1950, he moved to Paris, where he met Vali Myers — a magnetic free-spirited party girl with brassy red bangs dangling over smudgy eye makeup — who introduced van der Elsken to her bohemian crew.
Van der Elsken photographed Myers and her friends, and produced a series called Love on the Left Bank (or Een liefdesgeschiedenis in Saint-Germain-des-Prés). Over his four-year stay in Paris, he captured their coy looks, makeout sessions, uninhibited dancing, and — bien sûr — constant smoking.
The photographer wrote accompanying text for the images, describing St-Germain-des-Prés as "one square mile of scented riverside quay and boulevard, furnished, the whole way, with crowded cafés and empty bookshops." He likened the Parisian lifestyle to "a celestial haze of Pernod and garlic." The bohemian vibe hints at spontaneous snapshots, but van der Elsken in fact often made his subjects pose, a biographical yet exaggerated narrative for the camera.
A few years later, van der Elsken published the series in book form. In the interim, several of his photographs were selected by prominent curator Edward Steichen for acclaimed group shows at MoMA in New York, namely "Postwar European Photography" (1953) and "Family of Man" (1955).
Vali Myers recalled in a 1979 letter — displayed in the exhibition and written in curlicued script — "We lived in the streets and cafés of our quarter, like a pack of bastard dogs … there was always cheap booze and Algerian hashish to get by on." She deemed the squad of uprooted kids "stateless post-war vagabonds" who were "old for their young years." Myers also appeared in van der Elsken's 1972 film Death in the Port Jackson Hotel. Covered in face paint, while affectionately if somewhat indiscreetly pawed by her younger lover, she shared recollections of drunk friends arrested for indecent exposure and drug addicts who committed suicide.
The Paris exhibition also features images from later in the photographer's career. After Paris, van der Elsken traveled extensively — to Hong Kong, Sierra Leone, Manila, Oaxaca, and over a dozen trips to Japan — and later returned to the Netherlands. On his native terrain, he photographed rebellious teens in Amsterdam's Nieuwmarkt neighborhood: a girl in cat-eye glasses with cotton-candy hair, a set of twins with bouffants side-eyeing him through their winged black liner, punk boys with Mohawks, and girls wearing spiked pumps and fingerless gloves. Click ahead to see images from the exhibit.
Ed van der Elsken, "Camera in Love" is on view at the Jeu de Paume museum in Paris through September 24th.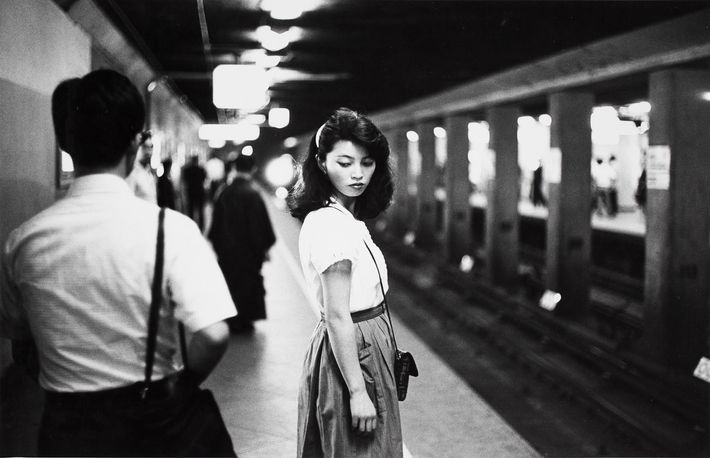 Fille dans le métro, Tokyo, 1981.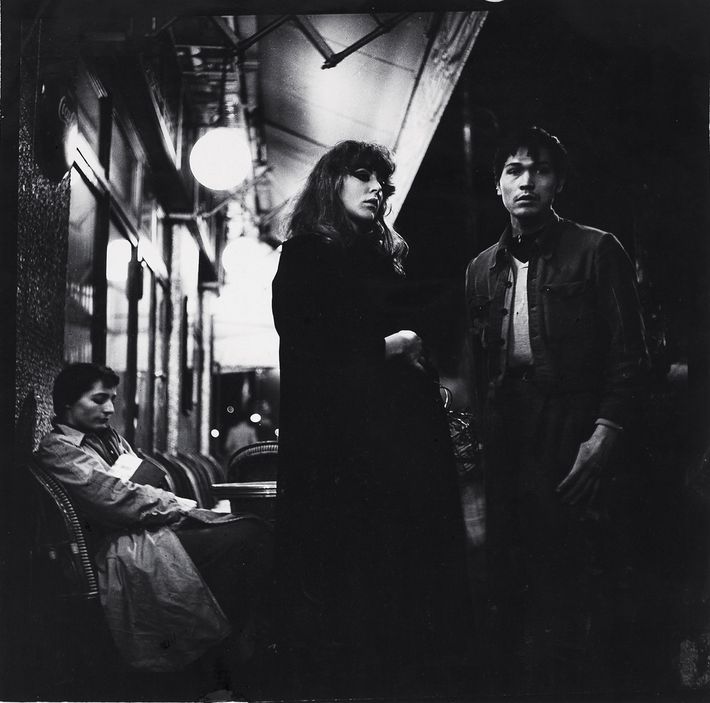 Vali Myers (Ann), Roberto Inigez-Morelosy (Manuel) et Géraldine Krongold (Geri) Paris, 1950.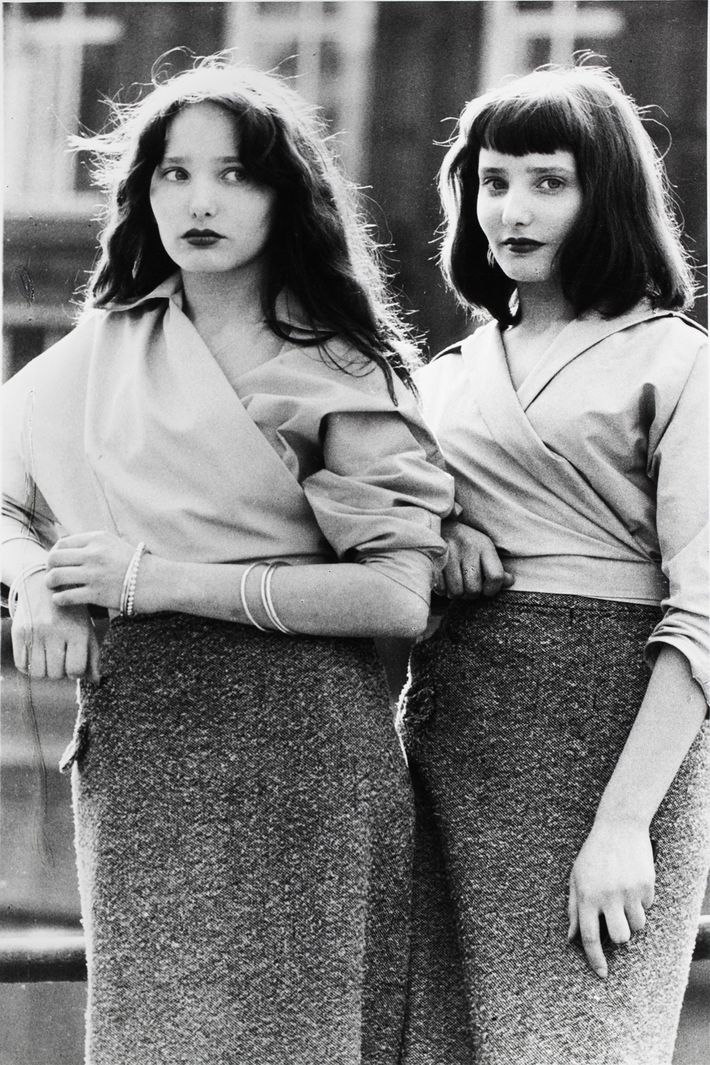 Jumelles sur la place Nieuwmarkt, Amsterdam, 1956.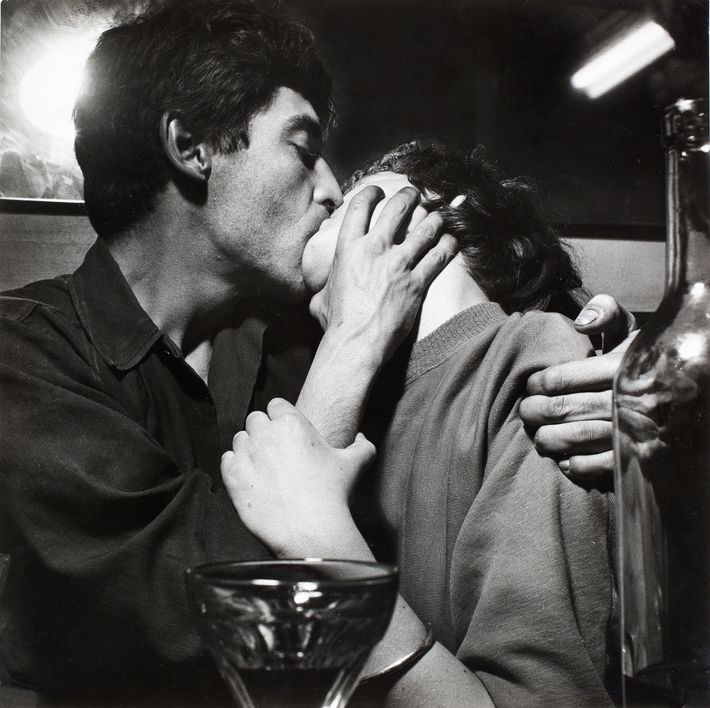 Pierre Feuillette (Jean-Michel) and Paulette Vielhomme (Claudine) kiss at the café Chez Moineau, Rue du Four, Paris, 1953.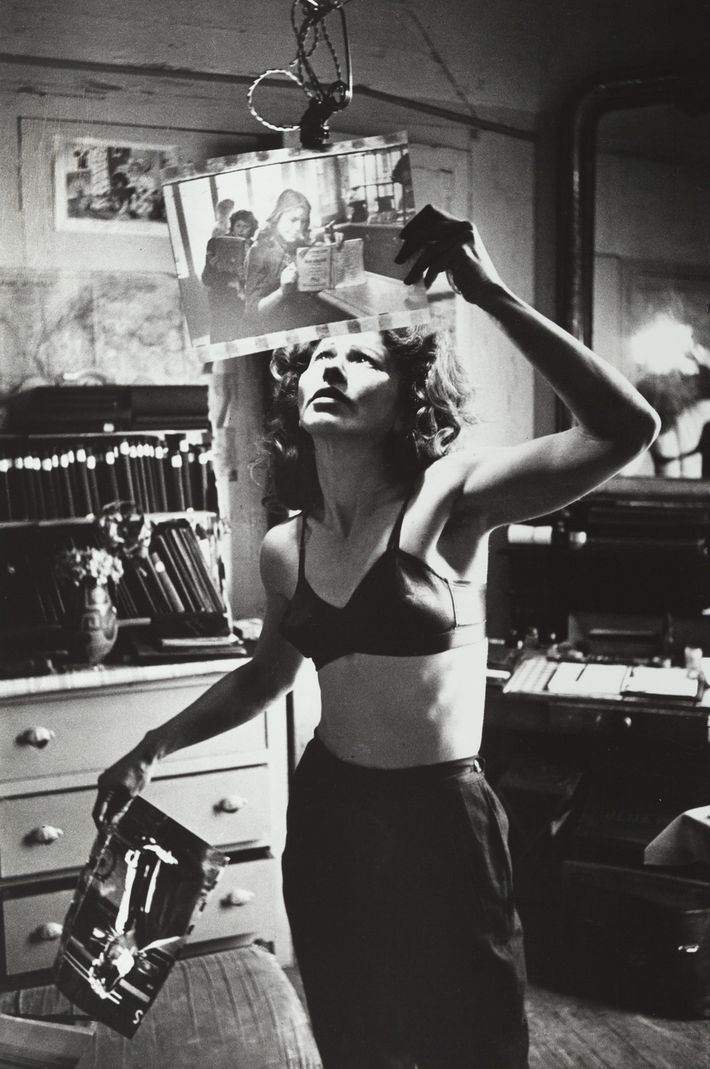 Ata Kandó checks a photographic print under a lamp, Paris, 1953 (v. 1979).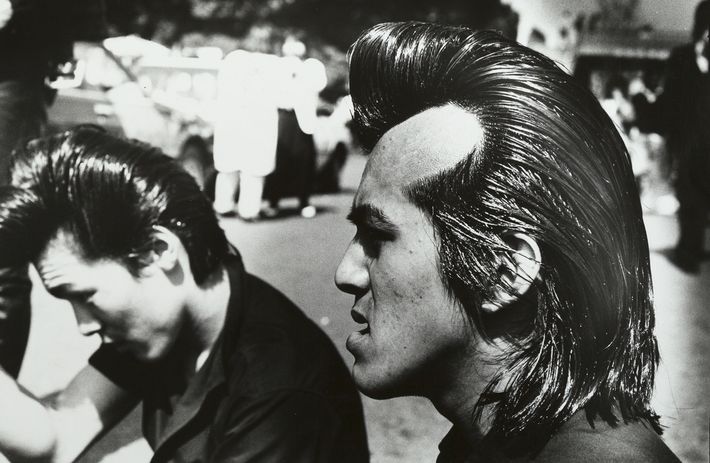 Rockers, Harajuku, Tokyo, 1984.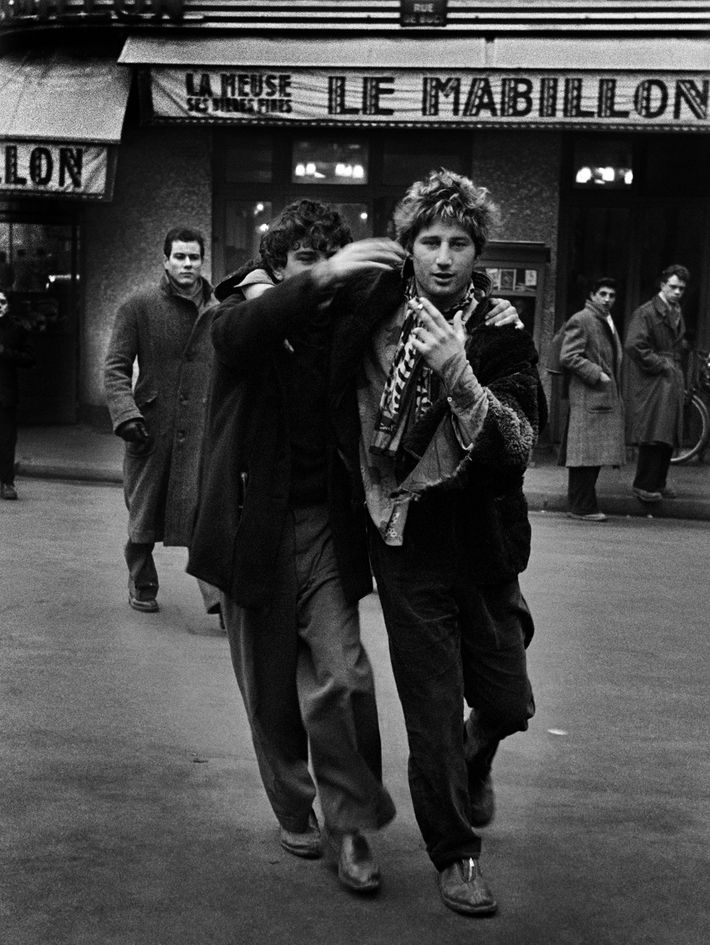 Jean-Michel Mension (Pierre) et Auguste Hommel (Benny) devant le Mabillon Paris, 1953.