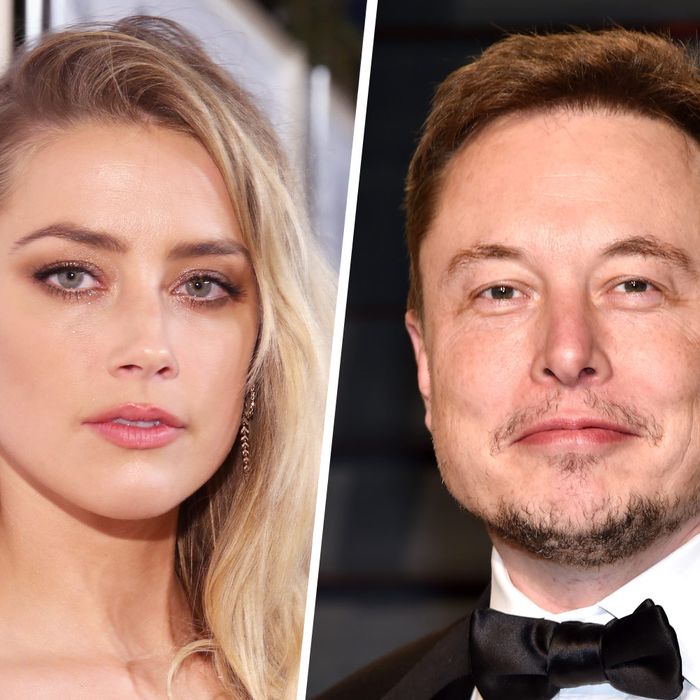 Amber Heard, Elon Musk.
Photo: Getty Images
Nowadays, most celebrities comment on breakups through their publicists or screenshots of their notes app — but not tech billionaire Elon Musk. Instead, he opted to speak out on his recent split with Amber Heard by commenting on an Instagram picture in which the actress likened her current red hair to that of Ariel in The Little Mermaid.
This weekend, news broke that Heard and Musk broke up after one year of dating, which Us Weekly attributed to "timing" and busy work schedules. Shortly afterward, on Monday, Heard posted a picture of herself sticking a fork into her red hair (dyed for her role in Aquaman) above a still from The Little Mermaid, in which Ariel tries to comb her hair with a fork.
Buried deep within the myriad comments on the picture, Musk surprisingly commented, "V cute," alongside a heart emoji, which prompted the rest of Heard's Instagram followers to ask whether the pair had actually broken up. And so, Musk posted a follow-up comment to clarify:
Btw, just to clear up some of the press storm this weekend, although Amber and I did break up, we are still friends, remain close and love one another. Long distance relationships when both partners have intense work obligations are always difficult, but who knows what the future holds.
Can't wait to see what he writes on her Facebook page next.