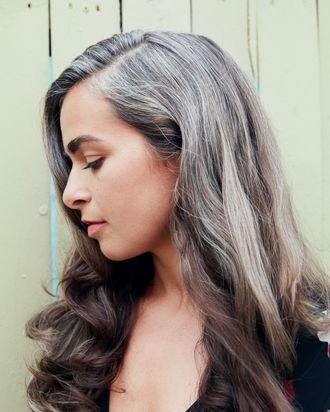 Photo: Katie Thompson. Photo Editor: Biel Parklee.
A lot of people get worked up about going gray, but when it happened to Noria Morales in her early 30s, she hardly noticed. Now that she's in her late 30s, that hair has become her signature. "People recognize me now because of it," she says, and she's okay with that. The Cut met up with the creative director to hear how she keeps her hair shiny and how she approaches the radically different texture in her grays.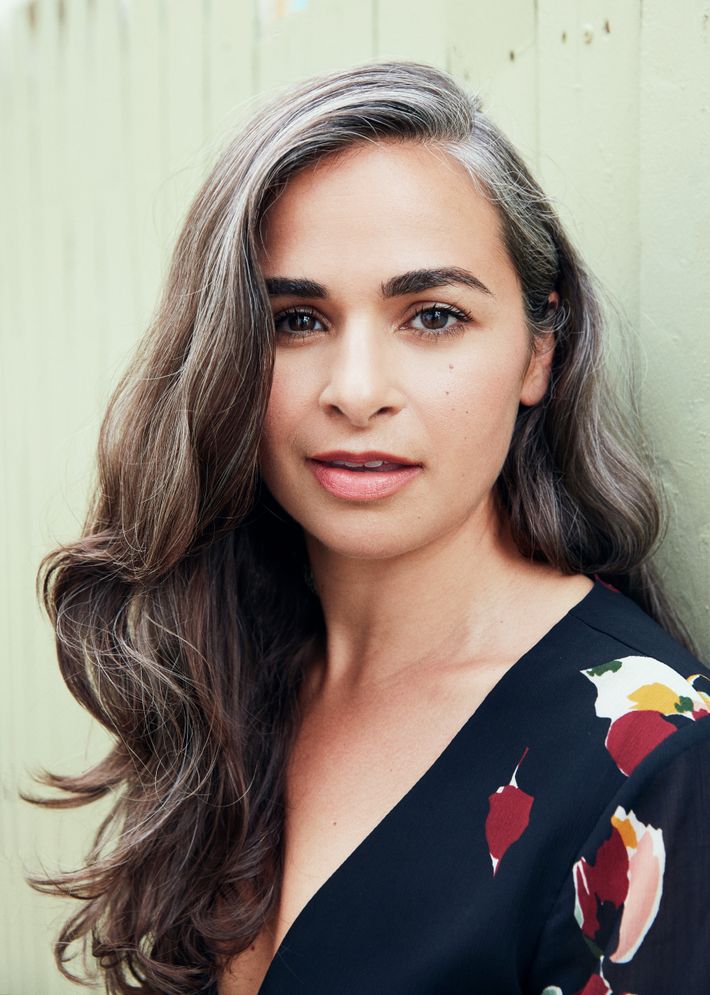 In my shower you'll find: Klorane Papyrus shampoo and a Gloss Moderne conditioner that I got in a swag bag a while back. Not in my shower but in my hair drawer is: Lulu Organics hair powder, Drybar dry shampoo, Herbivore Sea Mist, and Byredo Gypsy Water hair perfume (absurd, I know). And I often use Ouai hair oil (it's pretty awesome) when I'm in the beauty room at the Wing, but I haven't actually bought it yet.
I wash my hair every: One to two times a week, usually.
A rundown of my hair regimen looks like: My regimen is always shifting. If I wash it, I condition the ends. I usually stick it in a bun while it's wet and let it dry like that. It minimizes craziness, since my hair is adopting an increasingly strange texture now that all my gray is coming in. Sometimes (depending on whether I have a lot of events or important meetings), I get it blown out at Drybar. It's so convenient and my hair looks and feels amazing after that.
If I blow out at home, I get really bored after five minutes, so I make sure the roots are dry (thus minimizing insane frizz and these little gray hairs that drive me crazy), and spray Herbivore Sea Mist. It smells so good.
The worst thing I ever did to my hair was: Perm it in the '90s.
The best thing I ever did to my hair was: Just let it be.
I trim my hair every: Four to six months.
My salon is: Serge Normant on 23rd Street.
The most important thing people with hair like me should know: It's okay to feel conflicted about your gray, but I guarantee everyone around you thinks you look lovely with it.
Check all that apply — my hair is dyed, is chemically straightened, is permed, has extensions, is braided/in locs: None of the above.
What I love most about my hair is: It's long and thick.
Production Credits:
Photos by Katie Thompson
Hair by Lucas Wilson using Bumble and bumble
Makeup by Eric Vosburg
Produced by Biel Parklee
Hair Assistant: Sergio Estrada
Makeup Assistant: David Rivera