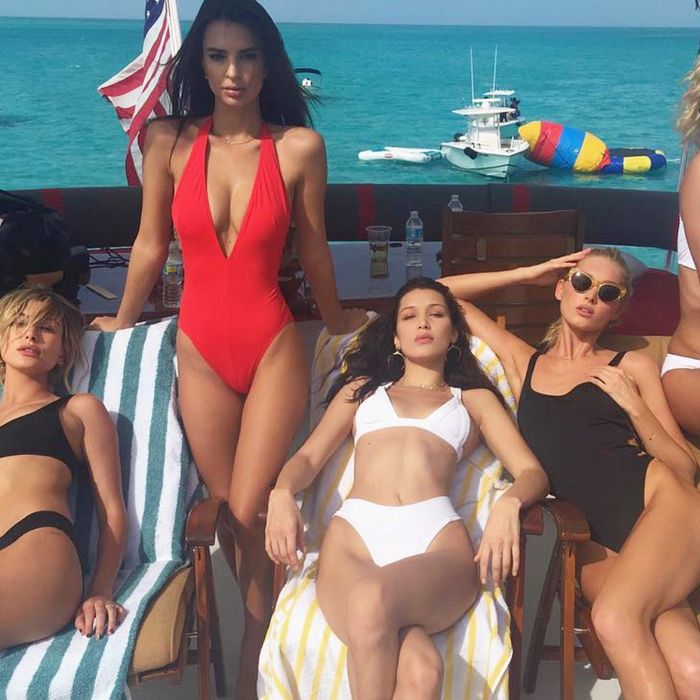 Hailey Baldwin and Emily Ratajkowski made the list.
Instagram stories have graced us with their presence for a full calendar year. Yes, a full calendar year of automatically playing through every influencer, friend-of-a-friend, and celebrity you follow. Isn't that wonderful?
To celebrate, Instagram released a list of the top 15 fashion-industry users, of over 10 million followers, with the largest engagement on their stories. The list included models, bloggers, and brands. Model-actress Emily Ratajkowski topped the list, followed by the Blonde Salad blogger Chiara Ferragni.
Dior was the only brand to crack the top ten, per Business of Fashion, followed by Dolce & Gabbana. As a whole, models and bloggers outperformed brands in terms of engagement on their stories, despite brands having more followers. Dior has 16.3 million followers and places tenth, while Emily Ratajkowski has 14.3 million followers and tops the list.
Hm, I wonder why models are outperforming. Eva Chen, Instagram's head of fashion partnerships, told BoF, "What Stories has really meant is that fashion is now able to be a little bit more authentic, a little bit more down to earth, funnier, scrappier."
Read on for the full list:
The Instagram fashion accounts with the highest engagement on Stories:




1. Emily Ratajkowski

2. Chiara Ferragni

3. Candice Swanepoel

4. Hailey Baldwin

6. Adriana Lima

8. Miranda Kerr

9. Gigi Hadid

10. Dior

11. Dolce & Gabbana

12. Kendall Jenner

13. Gisele Bundchen

14. Louis Vuitton

15. Christian Louboutin