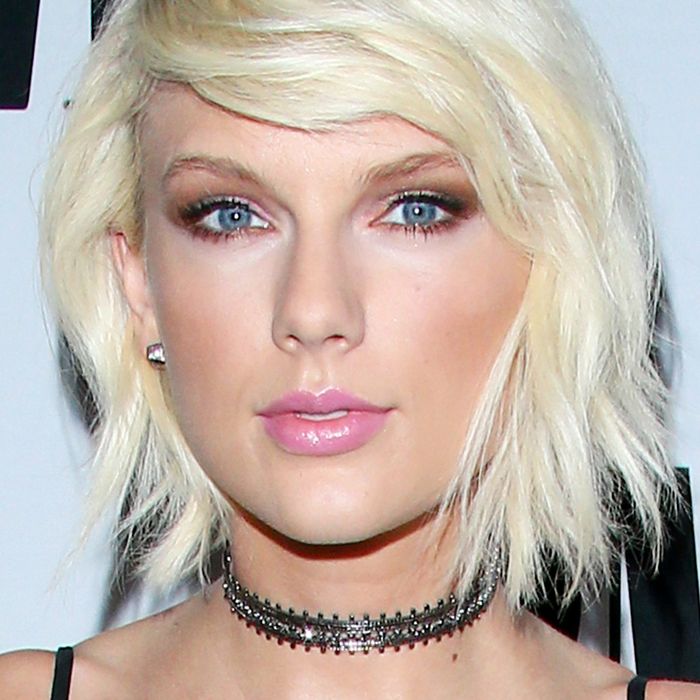 Taylor Swift.
Photo: Mark Davis/Getty Images
Taylor Swift — squad leader, nemesis of Katy Perry, and Fourth of July aficionado — appeared in a Colorado courtroom on Monday to begin a trial against radio personality/DJ David Mueller. Like most things involving Swift, it has a long, twisty backstory beginning at a meet-and-greet in 2013 when Swift was just 23. Mueller, now 55, initiated legal action in 2015, saying that Swift had caused irrevocable damage to his career, and he had not been able to get a job in radio since Swift accused him of groping her. The trial is set to play out over nine days, ending on August 24. Here's how Swift ended up in that Colorado courtroom.
The Incident
Mueller, then a morning-show host at 98.5 KYGO-FM in Denver, met Swift during her Red Tour in June 2013. He posed for a photo with Swift and his then-girlfriend when, according to Swift, he reached up inside Swift's skirt and grabbed her bottom.
Swift said in her deposition, "Right as the moment came for us to pose for the photo, he took his hand and put it up my dress and grabbed onto my ass cheek, and no matter how much I scooted over, it was still there. It was not an accident, it was completely intentional, and I have never been so sure of anything in my life."
Mueller was approached by a member of Swift's team, asked to leave, and banned from future concerts. Later, he was fired from his job at KYGO-FM because of the encounter with Swift.
Swift's management informed KYGO of the incident, but, per Reuters, Swift says she never demanded he be fired.
In 2016, TMZ obtained the photo, which shows Mueller's hand behind Swift, below her waist.
The Lawsuits
Mueller filed a false-accusation suit in September 2015 against Swift, her mother, Andrea, and her radio-promotions director, Frank Bell. He claims Swift fabricated the story to get him fired from his job. He is seeking lost earnings of at least $3 million.
In response, Swift countersued him in October 2015 for assault and battery, asking for a symbolic $1. Swift said in her countersuit that she will donate any monetary awards to charities "dedicated to protecting women from similar acts of sexual assault and personal disregard."
The two suits were merged for the ongoing trail.
The Evidence
The photo is being used as key evidence in the trial by both camps. Mueller's lawyer, Gabriel McFarland, told the jury on Tuesday, "If you look at that photograph, his hand is not underneath Miss Swift's skirt, and her skirt is not rumpled in any fashion."
On the other hand, Swift's lawyers have called the photo "damning" evidence that Mueller groped her.
Mueller has also been sanctioned for destroying evidence, specifically recordings of his conversation with his boss, Robert Call, the day before he was fired. U.S. District Judge William Martinez ruled that attorneys will be allowed to question Mueller about the contents of the recordings, and the jury will be allowed to consider the destroyed evidence in their decision.
Call said that Mueller had changed his story in that conversation, which was part of why he was fired. Mueller had previously supplied snippets of the two-hour recording to his attorneys to bolster his claim. However, he also admitted to destroying or losing the multiple electronic devices (cell phone, laptop, iPad, and computer) the full conversation was stored on.
Martinez wrote in his decision, "It is very hard to understand how he spent so little time and effort to preserve the very evidence which — one might think — could have helped him to prove his claims, and why he evidently responded with nonchalance when that evidence was lost."
Mueller's Testimony
Mueller took the stand on Tuesday, saying that he may have touched her "rib cage, or rib, or ribs," but didn't touch her backside. He testified, "It's a humiliating experience to be accused of something that despicable."
In cross-examination on Tuesday, Mueller was asked repeatedly by Swift's attorney if he could come up with a reason why Swift would fabricate the story. Mueller replied, "I cannot." He also conceded that KYGO had discussed firing him before the incident occurred.
In documents, Mueller admitted that Swift had been groped, but said that it was his boss, Hershel Coomer (also known as Eddie Haskell), who told Mueller "he had his hands on her butt."
On Thursday, Coomer told press that he had no doubt that the allegations against Mueller are true.
"We Absolutely Wanted to Keep It Private"
Swift's mother, Andrea, said in her emotional testimony on Wednesday that they did not go immediately to the police because they did not want this event to "define [Taylor's] life."
"We absolutely wanted to keep it private, but we didn't want him to get away with it."
She told the jury that Taylor approached her and said, "'Mom, a guy just grabbed my ass' … She was really shaken. She was humiliated."
Both Andrea and Bell testified that Taylor did not insist Mueller be fired over the incident. Bell said he asked the station to investigate the incident, and said he sought "appropriate action."
Taylor's Testimony
Swift took the stand on Thursday to offer her account of what she called a "despicable and horrifying and shocking" encounter. She described Mueller's actions as a "definite grab. A very long grab."
"It was a very shocking thing that I have never dealt with before," Swift said. "He grabbed my ass underneath my skirt. It was underneath my skirt."
She testified that, afterward, she thanked them for coming in a monotone voice and continued with the meet-and-greet so as to not upset other fans who had come.
She has been praised for her quick comebacks and calm demeanor during her cross-examination. When asked how she felt about Mueller losing his job and career allegedly over the incident, she answered, "I'm not going to allow you or your client make me feel in any way that this is my fault. Here we are years later, and I'm being blamed for the unfortunate events of his life that are the product of his decisions — not mine."
The photographer who took the picture, Stephanie Simbeck, confirmed Taylor's story in her testimony on Thursday. "I saw it happen. I saw his hand grab her ass," she told the jury. She also said that Swift told her team what had happened immediately after the incident.
What Comes Next
Currently, the trial is set to last nine days, ending on August 24.