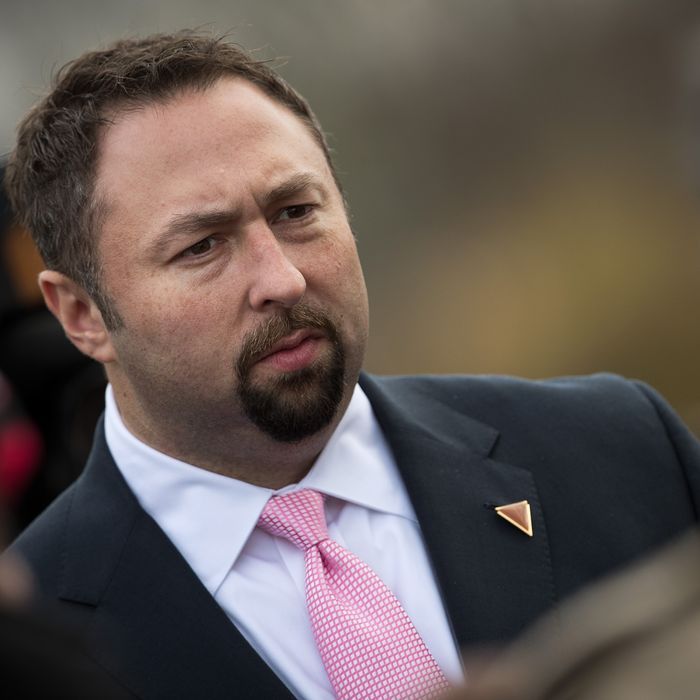 Jason Miller.
Photo: Drew Angerer/Getty Images
Communications director is turning out to be one of the most scandal-ridden positions in the Trump administration.
Most recently, former Trump communications director Jason Miller and Trump transition adviser A.J. Delgado confirmed that they have a child resulting from an extramarital affair. The two were spotted at a strip club the night before the third presidential debate in October, having a "wild night" in Vegas, "Page Six" reported.
Miller's wife gave birth to a child in January. Delgado tweeted in December congratulating the "baby daddy" on being appointed White House communications director (he resigned two days after being appointed). Delgado also called him "the 2016 version of John Edwards" in December, referring to John Kerry's vice-presidential nominee in 2008, who had hidden his love child.
Delgado gave birth to her son, William, on July 10. Miller confirmed to "Page Six" that he is the father.
"My wife and I, along with our two daughters, are excited to welcome William into the world and into our family, and we appreciate the well wishes we've received from so many."
Delgado, for her part, responded on Twitter by saying Miller's alleged generosity was "news" to her, and that she plans to tell her side of the story to a reporter at The Atlantic.
The headline of this post has been updated.