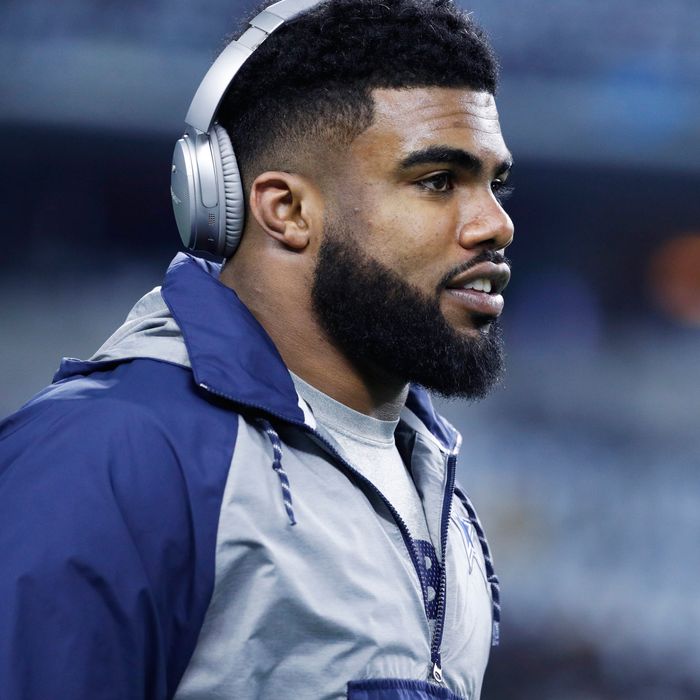 Ezekiel Elliott has been suspended by the NFL for six games.
Photo: Joe Robbins/Getty Images
On Friday, the NFL announced that Dallas Cowboys running back Ezekiel Elliott has been suspended for six games following its investigation into his role in a domestic-violence case brought forward by his ex-girlfriend, ESPN reported.
In a letter announcing his suspension, NFL officials said experts who'd looked into the case "were of the view that there is substantial and persuasive evidence supporting a finding that [Elliott] engaged in physical violence" multiple times in Columbus, Ohio, in July 2016. In September, the Columbus city attorney's office said it wouldn't press charges against Elliott, citing "conflicting and inconsistent information" about the case.
But the NFL doesn't need to meet the same standard of proof as the courts. Its legal experts reportedly looked at text messages, interviewed "more than a dozen" witnesses (including both Elliott and his ex), and consulted medical and legal experts to make its decision. And in the end, Elliott couldn't explain away his girlfriend's injuries:
The league was able to collect data from the woman's phone that came the same days as the incidents she reported. Peter Harvey, the former attorney general for New Jersey who aided the NFL's investigation, said Elliott's representatives presented "alternative theories" in how she may have suffered the injuries, including a fight with another woman, falling down the stairs or at her job as a server, but did not offer evidence of the injuries occurring under those circumstances.
According to TMZ, NFL officials pointed to three instances in which Elliott used "physical force" against his ex in July of last year. Prosecutors reportedly told the NFL that they "never concluded that she was lying to us … we generally believed her for all of the incidents."
Elliott has three business days to appeal the suspension, which he is expected to do. Without the appeal, his suspension would begin September 2, and he'd be eligible to return on October 23.