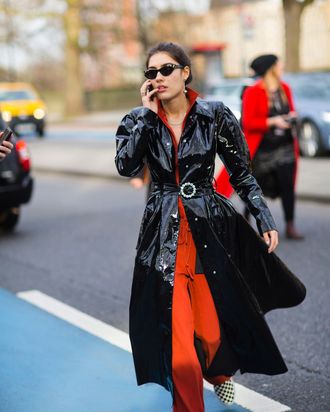 Once in a while, a trend appears on the runway, trickles down to your local mall, and then lodges itself firmly inside your brain. Now Trending is our weekly roundup of where to buy that look that's been haunting you.
Prepare to enter The Matrix, again. Ever since Demna Gvasalia laced Balenciaga's fall show with ultraskinny sunglasses and big couture gowns, the '90s dystopia has been back in style. Thin, sci-fi-inspired frames have been trending all summer, but now that fall's approaching, it's time to cue in the vinyl trench.
The street-style crowd has already embraced the vinyl trench, for obvious reasons: It's an easy, sleek way to make a powerful statement. To make it work it real life, don't wear anything too crazy underneath — the coat should draw the bulk of the attention. Soften it with a frilled chiffon dress, or make it the star and just opt for a simple trouser and blouse.
Depending on whether you go for PVC or more sturdy coated leather, your Matrix coat can last you well into winter with some strategic layering. Scroll below to shop the best vinyl and patent trench coats for any budget.
The Coat That Can Brave the Snow
Buy this faux-fur trimmed jacket now and wear it well into winter.
Between the pronounced lapels and the buttons, it mimics the sophistication of a Burberry classic.
Or, if you hate buttons, try this affordable belted number. The slim silhouette will look great with a column dress.
Vinyl works like a dream during a rainstorm, so you'll stay dry even during the worst of September showers.
New Italian label Attico was created by two seasoned Golden Peacocks. This coat is from an older season, but there are still a few left in select sizes on discount.
Original price: $1,763
If The Matrix were set in the 1960s, the coats would look a little like this.
When You're Tired of Black
Try a fine wine. Pairs nicely with other colors.
The Designer Vegan Option
Stella McCartney only uses cruelty-free materials in her collections, but this coat still feels as nice as real leather.
The Archival Surprise Find
This Isabel Marant trench is from the fall 2016 collection but still looks fresh.
If You Want to Feel Fancy
If a sleek vinyl coat is too cyberpunk for your taste, try a textured version. This croc-embossed coat is a little more elegant.
It's a big splurge, but Loewe pieces are notoriously difficult to come by, and the collarless detail is so cool.
Turkish brand Zeynep Arcay prides itself on its leather creations. This trench doesn't come cheap, but it's probably the closest to a proper Trinity look-alike.
If you buy something through our links, New York may earn an affiliate commission.