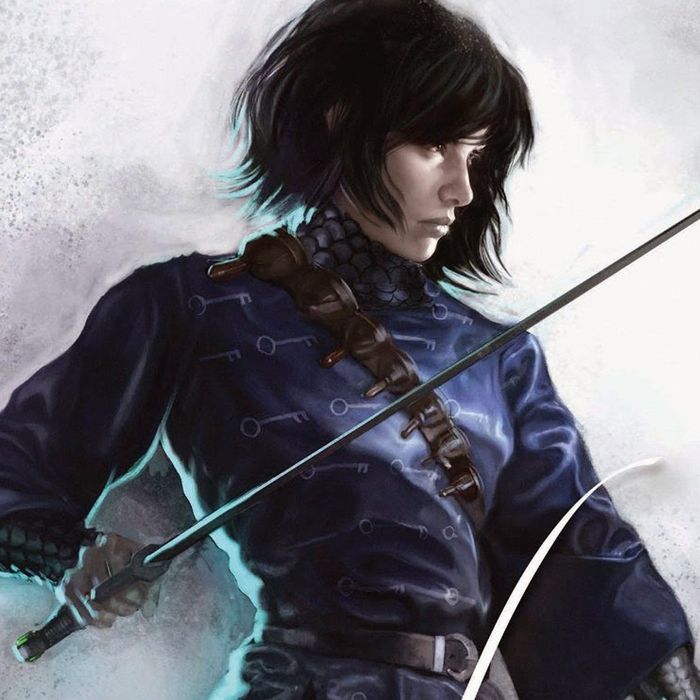 The cover of Garth Nix's Sabriel.
In the Cut's recurring books column, Shelf Improvement, we delve deep into our bookshelves to find recommendations that never go out of style.
When I was in sixth grade, my parents sat me and my younger sister down on the living-room sofa and told us they were getting a divorce. At the time, I'd just progressed from reading about Massie Block and Claire Lyons in Lisi Harrison's Clique series to slightly longer, darker books like Cornelia Funke's Inkheart, Philip Pullman's His Dark Materials series, and Madeleine L'Engle's A Wrinkle in Time. And although my parents tried various strategies to get me to confront my emotions — private conversations, a therapist, a journal — I instead chose to cope by starting a new science-fiction book: Sabriel, by Garth Nix.
At the time, the thing I liked best about Sabriel was that it had minimal connection to real life. It takes place in two neighboring fictional countries: Ancelstierre to the south, and the Old Kingdom to the north. A wall divides the two, and for the most part the residents of each keep to themselves. But powerful evil forces begin to stir in the Old Kingdom, where magic exists and reanimated corpses walk around like it's no big deal, and they can only be defeated by the Abhorsen, a necromancer who uses her (or his) bells of power for good.
The book follows Sabriel, a young girl who attends boarding school in Ancelstierre, near the Old Kingdom border. Her father is the current Abhorsen, and he's gradually taught her much of what he knows, preparing her to take over. Her life is upended when he goes missing and she crosses the wall on a quest to find him. She gradually grows more confident in her powers and makes several Old Kingdom friends, eventually finding her father and defeating a dark force named Kerrigor that trapped him in death.
It's long — 496 pages, small print. But I couldn't put it down. I'd read it under my desk at school, in the hallways of the dance studio before ballet class, at night under the covers when I was supposed to be asleep. There was a danger in this, though: Soon the book would be over, and I'd have nothing left to distract me.
Imagine my relief, then, when I discovered that Sabriel had another 500-odd-page sequel called Lirael, and a third book called Abhorsen that rounded out the trilogy. As soon as I finished one, I picked up the next. For 1,500 pages, I was transported to a place where crossing into death's realm was as easy as crossing the street, where the heroine (it wasn't always Sabriel, but it was always a heroine) was hopelessly outmatched by dark forces, and where people lived or died by the turn of a page. It was thrilling, and more importantly, it kept me away from a reality that I wasn't ready to cope with.
It was a long time before I picked up the Old Kingdom series again. Then, in my junior year of college, my boyfriend unexpectedly dumped me at the beginning of an icy February. I felt hollow. I felt like crashing my shitty white Toyota into the side of a house. I pulled out Sabriel.
I wasn't expecting to be floored the second time I read it. The series is more or less in the category of young-adult fiction; I figured my collegiate mind was beyond that kind of immersive reading experience. Thankfully, I was wrong — the book swept me away as artfully as it had when I was 12. And this time I was able to appreciate the grace in Nix's pared-down prose, the complexity of the people he put before me, and the sheer inventiveness of the world he'd created.
Garth Nix bought me time then to get over my heartbreak, and he bought me time when, on November 9, I woke up to the incomprehensible news that Donald Trump would be our next president. I think I started Sabriel that day. Then, at the end of the month, my first girlfriend and I broke up. I was on Lirael by then, but I started over from the beginning.
A few days after our breakup, I went to brunch with a friend whose relationship was also unraveling. I'd brought Sabriel with me on the bus and pulled it out to read while I waited for her. When she showed up, she asked what I was reading. "It's my mental-health series," I explained, and she ordered the books that same day.
I'm not saying it's foolproof. But months later, while we made dinner together at her apartment, my friend delivered her verdict: they'd worked.
If you buy something through our links, New York may earn an affiliate commission.