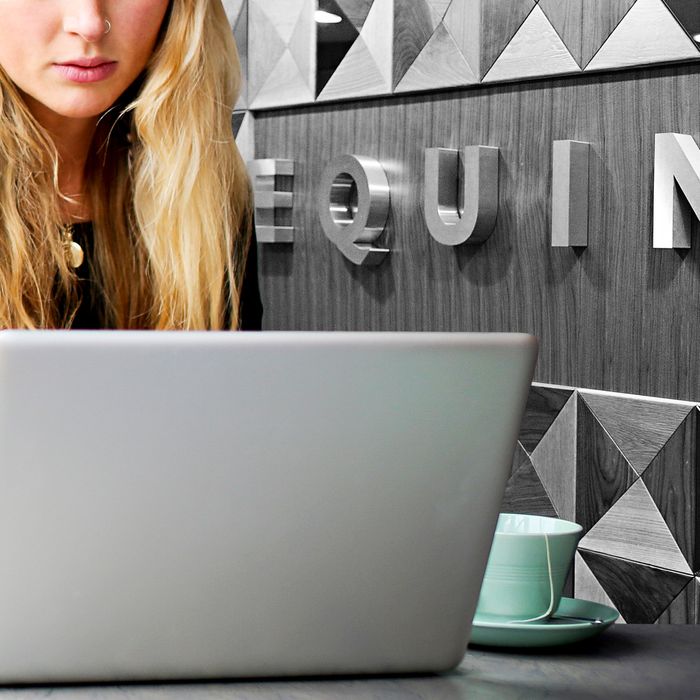 There's a man asleep in the velvet armchair in the corner of my office. Again. He seems unperturbed by the pumping house music that — I've learned over the past two months — blares at all hours inside this gym at the tourist-clogged corner of Nassau and Wall Street in lower Manhattan. I am not employed by Equinox, but I do work here — specifically, at the long marble table studded with outlets in the adjoining Greenpower Cafe, which serves virtuous things like green smoothies and kale salads. The irony that I, a journalist who writes mostly about food, have elected to spend every weekday waking hour in a gym has not escaped me.
Most days, I arrive around 10 a.m. I camp out next to a large window at the far end of the marble table, and then I write. I take a break to exercise sometime between 3 and 4:30 p.m., well after the lunch rush and before people start trickling out of work. That's the window when competition for machines is nonexistent and, most critically, the locker room is completely empty. An empty women's locker room at the Wall Street Equinox is, I've learned, one of the most luxurious things in existence, with unfettered access to silky Kiehl's face cream and silence, beautiful silence. Sometimes I sing in the shower, because who will hear me? The experience is — and I can't even believe I'm saying this — pleasant.
But let's back up. Here's how this happened: Earlier this year, I kick-started a freelance career after years of on-staff drudgery. For the sake of productivity, I glued myself to my laptop — and, inadvertently, to my couch. Whoops. I knew I needed a change. I thought: Maybe I should get a co-working space? A gym membership? Probably both. But on a meager freelancer's income, the prospect of doling out so much cash made me gag. I wondered, "What if those two things could be combined?"
Turns out, I'm not the first person to ask the question. An internet search led me to a Wall Street Journal piece from last year, which detailed how several chains had outfitted their locations with outlets, good Wi-Fi, and comfortable seating. Big-box gyms were beginning to court the freelance economy, the article teased. Too bad I couldn't find a single person who'd actually tried working out of one.
Of the gyms mentioned in the article, Equinox was the only one I could find in New York City. After a brief period of shopping around — not all locations are properly outfitted — I settled on a gym ensconced in a wood-paneled former bank building on Wall Street, kitty-corner to the New York Stock Exchange. The adjoining cafe, with its high ceilings and plenty of comfy couches, was empty the day I visited. There'd be no jockeying for outlet space, I realized. No dagger stares from disgruntled baristas. There would be Kiehl's products. For free.
I'm really not the type of person to plunk down $185 a month for a gym. Nor am I a "natural athlete" — the last time I voluntarily ran more than a mile was … never. I played on my middle-school basketball team for an entire season without ever learning the rules, profoundly dislike being sweaty, and was once told by a soccer coach to "kick the ball off the field" in the unlikely event one ever came near me. But Equinox's membership fee is considerably less than the most economical option at my local WeWork, which runs around $300 for a "hot desk." And at Equinox, I find myself thinking bizarre things, like, "Well, I guess I'm here already," before clambering atop an elliptical machine for half an hour. I even use exercise as a procrastination tool, which is some sort of Jedi mind trick.
It's not a perfect arrangement, though, because this place is, first and foremost, a gym. The temperature is kept at a frigid 68 degrees, which requires having a wool sweater stashed in my gym bag at all times. Even on 90-degree days, I look like February in Wisconsin. Also, the loud music blaring overhead is (a) clearly meant to appease finance bros and (b) conducive to raising one's heart rate, not concentration. After a few days, I broke down and bought a used pair of Bose noise-canceling headphones on Amazon.
And the smells, Lord save me, the smells: The air is perfumed with the mingled scents of disinfectant, sweat, and the questionable fare served at the in-house cafe, which includes a teriyaki burger I'm certain is 70 percent cardboard. My food writer's heart breaks every time I see a finance bro shovel one into his mouth. I usually bring lunch from home, which, now that I think about it, saves me a lot of money and is healthier. So a con, but really a pro!
There was also the time a few weeks ago when a large, heavy-breathing man sidled up next to me as I typed away, headphones on, and proceeded to hit on me repeatedly despite my obvious disinterest. These things happen all the time in the wild, but I'd assumed a level of insulation and protection in a fancy gym. Alas, the episode lasted no more than ten minutes but left a bad taste in my mouth for days afterward. I'm always alert now, keeping tabs on those around me. I pack up my things every time I use the bathroom.
But most days, the strangest thing I'll see is the guy snoozing away in the plush armchair behind me, hands clasped over his chest as though praying. He works hard, and I know because this is his workplace, too: He slings those terrible teriyaki burgers and neon-green smoothies at the cafe, usually retiring around 2 p.m. to the chair. The chair nap doesn't seem like an ideal situation for him, either, but it works.
I'm always reluctant to call something new I'm trying a true success; whenever I claim victory, that's when things really fall to pieces. Maybe heavy-breathing Don Juan will come back. Maybe the Kiehl's will run out. For now, though, my Equinoffice is a win.