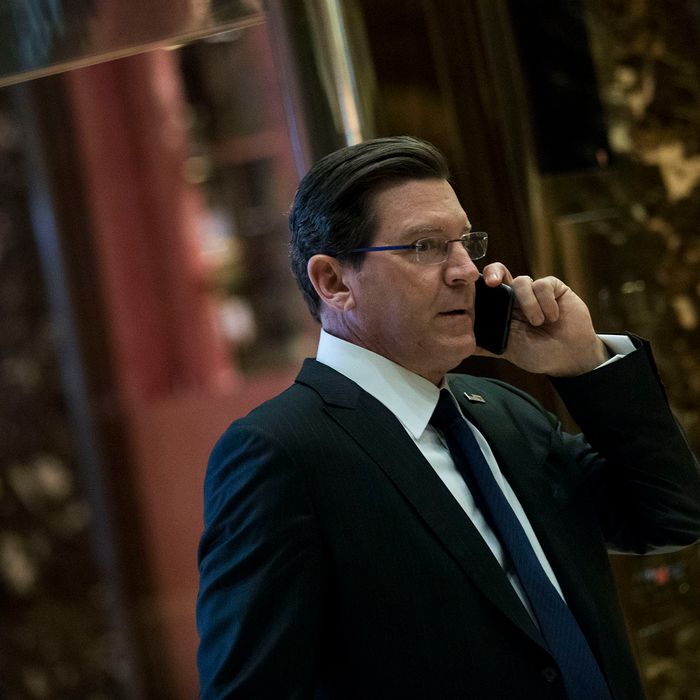 Fox News host Eric Bolling arrives at a meeting at Trump Tower in 2016.
Photo: Drew Angerer/Getty Images
Fox News has suspended host Eric Bolling after a Friday HuffPost report alleged that he had sent photos of male genitalia to female colleagues.
According to 14 unnamed sources, who either saw or received the unsolicited photos, the incident happened several years ago.
Of course, this comes at a time when Fox News has repeatedly been accused of covering up sexual harassment at the network. Anchor Gretchen Carlson, filed a lawsuit claiming she was sexually harassed by the late Fox News chairman Roger Ailes. Then, infamous Fox News host Bill O'Reilly, was pushed out after word broke that he had quietly settled multiple sexual-harassment claims brought by women at the network.
Bolling, a former commodities trader who previously worked at CNBC, now hosts Cashin' In and the Specialists on Fox News. He also reportedly has close ties with President Trump.
Originally blindsided by the report, Fox News later released a statement on Saturday that "Bolling has been suspended pending the results of an investigation, which is currently underway."
Bolling's lawyer, Michael J. Bowe, said his client does "not believe" he sent the messages. He told HuffPost that Bolling "recalls no such inappropriate communications, does not believe he sent any such communications, and will vigorously pursue his legal remedies for any false and defamatory accusations that are made."
Besides, according to Bolling's Twitter history, he doesn't even understand the appeal of "junk shots."
"Why would one take a picture of one's junk anyway?" Bolling asked in a 2011 tweet criticizing Anthony Weiner for texting lewd photos to underage women.
This post has been updated to reflect the news of Bolling's suspension.