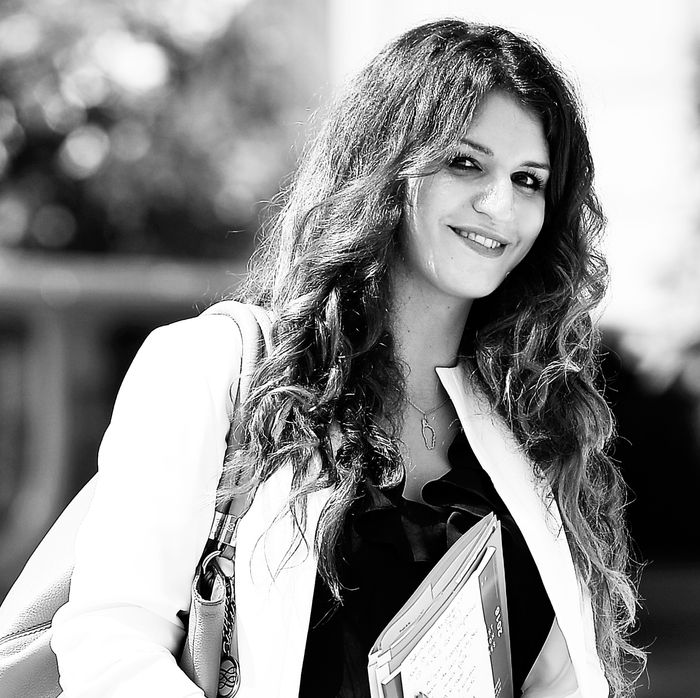 French Minister of Gender Equality Marlène Schiappa.
Photo: Aurelien Meunier/Getty Images
Marlène Schiappa, France's hot-pink-lipstick-wearing minister of Gender Equality is putting her foot down on lecherous French men harassing women on the street, NPR reports.
Schiappa, 34, a blogger turned women's rights activist, was appointed by French president Emmanuel Macron to tackle gender inequality in France. Schiappa originally founded the blog Maman Travaille (Mom Works). She went on to publish several books, and eventually entered politics, serving as the deputy mayor of Le Mans, a city southwest of Paris.
Now Macron has tasked her with closing France's gender pay gap, but in the meantime, she wants to make the country's public spaces safer for women and girls. Sexual harassment made news earlier this summer in Paris when women in the city's La Chapelle neighborhood vocally protested street harassment. And although street harassment is not currently illegal in France, Schiappa is drafting legislation to change that.
"If you go to the street and you say, 'So, is it allowed to touch a girl's body on the street?'" Schiappa told NPR. "I'm sure many people would say, 'Aw, it's not that bad if you do.'"
She hopes to eventually fine street harassers thousands of euros on the spot. These fines would be similar to those levied on Parisian smokers who drop their cigarettes, she told The Guardian.
""You don't have to follow girls on two, three streets and ask her 20 times [for] her phone number," Schiappa told NPR. "[Harassers] say, 'Oh, but it's my right. I'm just chatting and talking with that girl. I'm making a compliment.' They don't understand."